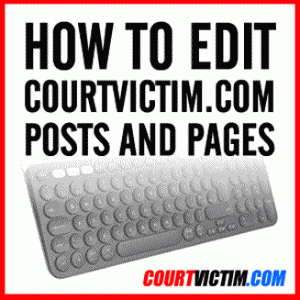 HOW TO EDIT COURTVICTIM.COM PAGES OR POSTS
Before you start NOTE: After you register for an account for courtvictim.com (CV) we need to upgrade your account so you can edit your page(s). So let us know you're waiting for that to be changed.

LOGIN:
1. Make sure you are logged on to your account.
A. Go to the home page on courtvictim.com
B. Click on "LOGIN" top right hand of the page
C. If you registered by clicking on Continue with Google, Twitter, Facebook or Yahoo click on the same Icon to login again.
If not enter the email address or username and password you registered with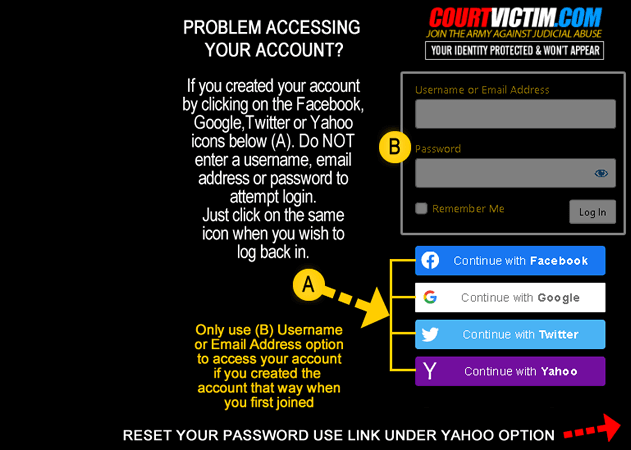 Once logged on click on the
FIND YOUR PAGE
Once logged on you can go to the home page of CV Use the search option or links to get to your page.
Once on your page and logged in look for the "EDIT" button lower right side of your page.
Click on the "EDIT" button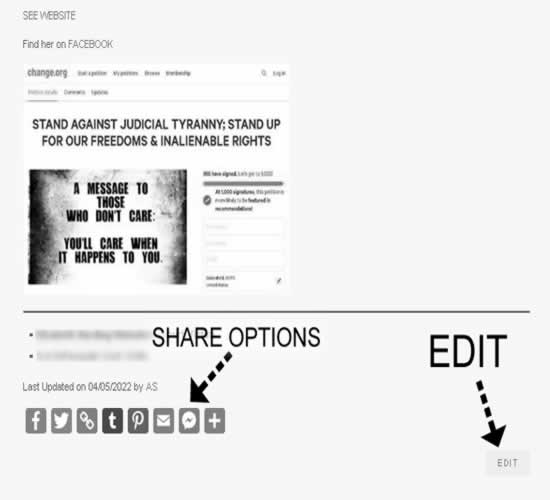 Note above the EDIT button which ONLY appears if you are logged onto your account
Note the SHARE ICONS, these are for when you page is complete, you can easily share you page by clicking on one of the options
Facebook, Twitter, Copy the URL, Tumbler, Pinterest, email or Messenger, Click the + for more options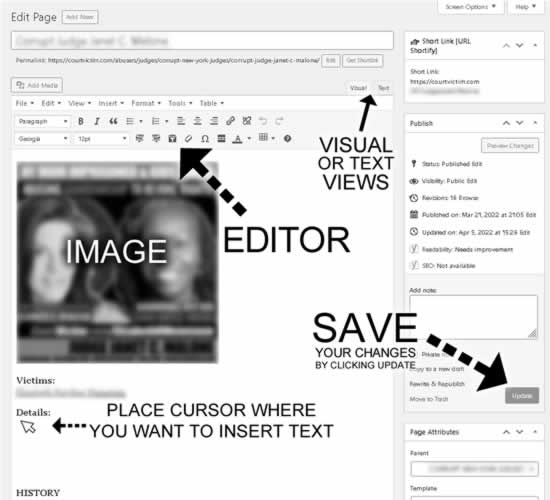 While there are many options and tools on the EDIT page you only need to know a few.
Visual or Text View (tabs at the too of the text box right side)

Visual: is the easiest way to edit text as you see it
Text: Is editing code, don't use this unless you know what you are doing.
UPDATE button (SAVE your changes) make sure to click this after changes or otherwise changes will not take effect.
Mouse Cursor: Place it after (to the right) or below where you wish to add text.
Highlight text by clicking on it of dragging over it

Above are the most basic options you will need to edit or change your page
Please NOTE we need to have consistency of the over all site and pages so DO NOT change the Type style shown or pt Size
A. Paragraph Text and Heading sizes
B. Bold Option
C. Eraser to Clean Code (if text does not change correctly highlight it and click the eraser Icon.
D. Add links to pages or delete a link, highlight text you wish you link then click on the paper clip (the link Icon)

If you click on A above a drop down will appear that exposes
Paragraph
Heading 1
Heading 2
Keep in mind your page may already have a line of text as HEADING 1
You can have several HEADING 2
The above is so some headings stand out also SEO search improvement
---