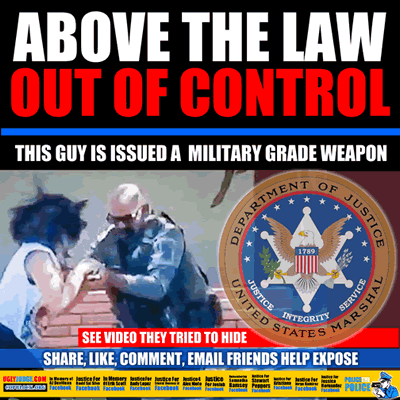 With a temper like this do we need someone like this with a military grade weapon? Imagine if he got out of control and fired his weapon? The other fact is that he tampers with witnesses and evidence. This officer must be fired, arrested, prosecuted and jailed for assault and other crimes.
SOUTH GATE, Calif. Neighbors are raising questions about a deputy U.S. marshal seen seizing the cellphone of a resident, smashing the device then kicking it away."He told me I was interfering with their investigation, but I said I was on public sidewalk, and I had the right to film them," says Beatriz Paez.
The U.S. Marshal Service confirms it is investigating the incident, which was captured on another cellphone by a neighbor and posted on YouTube. The video they did NOT want you to see.
"He threw everything on the ground. He stomped on my phone with his boots several times, violently, and then he kicked my phone. When he came toward me, I was terrified. I thought he was going to beat me up. I feared for my life," Paez said. Is this when the public has the right to defend themselves and claim "They feared for their lives". Police kill people for this same reason everyday.
Paez, a teacher, hired a lawyer who alleges a violation of constitutional rights.
"Everyone has the right to videotape and document police activity in public," said attorney Colleen Flynn.
Neighbors say the sweep was aimed at members of the Mongols bike gang, which gathers in the neighborhood every month.
Paez says she was alarmed by the police presence on a Sunday afternoon, guns pointed at young men laying face down on the lawn.
"I told them that I felt unsafe, and I was also telling them they were blocking my view because they had their backs to me, and they were purposely blocking my view of the camera," Paez said.
US MARSHAL CAUGHT ON TAPE SMASHING CALIFORNIA WOMAN'S CELL PHONE


---