Corrupt Michael R. Powell
CA Bar #: 229012 (December 2003)
Appointed By: Gov. Edmund G. Brown, Jr.
Michael R. Powell is a judge of the Superior Court of Los Angeles County in California. Powell assumed office in 2018. Powell's current term ends on January 4, 2027.
Powell won re-election for judge of the Superior Court of Los Angeles County in California outright in the primary on March 3, 2020, after the primary and general election were canceled.
2018-present: Judge, Superior Court of Los Angeles County
2004-2018: Deputy public defender, Los Angeles County Public Defender's Office
2002-2004: Law clerk, Los Angeles County District Attorney's Office
Elections
Municipal elections in Los Angeles County, California (2020)
Incumbent Michael Powell was the only candidate to file and won the position by default when the election was canceled.
L.A. Judge Michael Powell Let Attorney Joe Yanny Steal $82,722. Why?
On September 27, 2017, in Los Angeles Superior Court case LD068701, Baker v Baker, the Respondent Clara Baker (aka "Clair Marlo") and her attorney Jacqueline Blade were Ordered by Court Commissioner Alicia Blanco to sell a disputed property on the condition that the proceeds from the sale would be put in trust and that those funds "will not be touched" until further order of the court. Standard stuff in a divorce proceeding.
Respondent then hired a new attorney, Joseph A. "Joe" Yanny, Cal. State Bar No. 97979, who has strong ties to the organized crime syndicate known as the Mongols Nation. The case was assigned to a new judge, Hon. Michael Powell in Dept. 22 of the Stanley Mosk courthouse in downtown L.A.
In a series of transactions, attorney Joe Yanny transferred a total of $82,722 from the trust account to his client. I discovered these transfers later, after receiving documents from the bank in a subpoena response.
As Petitioner in the case, I retained noted civil rights and family law attorney Marc Angelucci to prosecute Joe Yanny and Clair Marlo for Contempt of Court. Full disclosure – Marc Angelucci was also my friend, and also my boss as a paralegal in several other cases. Mr. Angelucci told me that this Contempt was a "slam dunk", because we had the bank records showing the transfers. The matter was set for hearing on July 20, 2020.
Unfortunately, on July 11, 2020 Marc Angelucci was gunned down, murdered in cold blood in front of his house in Crestline. For a number of reasons, I am deeply skeptical of the "official story" that eventually emerged regarding who did that. I can say that I know more, and was more involved than anyone else regarding what Marc Angelucci was doing in court in the last 1 1/2 years of his life.
Still in shock, my Contempt hearing went forward on July 20, 2020 in front of Judge Powell. Judge Powell found that the court order stating that "those funds will not be touched" was too "vague" to enforce. OK? I asked Judge Powell, "what part of 'will not be touched' is unclear?"
Now, when he wants to shout you down, Judge Powell has this habit of grabbing the microphone and putting his mouth right up to it, so his already annoying voice goes into a bone-crushing distortion.
When I attempted to introduce the bank statements into evidence, Judge Powell grabbed the mic and yelled he was going "off the record", disallowed me from introducing them, and stated that I was being "rude", simply because I was trying to introduce evidence. You know, the evidence that would prove the case! Like, the stuff that my now dead lawyer and friend Marc had said made this hearing a "slam dunk."
Later, at another hearing, seeking to discredit me, Judge Powell stated that the Contempt was dismissed because there was "no evidence". No kidding. There is always "no evidence" if the Judge goes off the record and won't admit it.
Judge Michael R. Powell pretended that an order stating that money "will not be touched" was vague, and he pretended that no evidence existed for the transfers. He let attorney Joe Yanny and his client Clara Baker, aka Clair Marlo, get away with 82 grand. It never would
have happened with Marc Angelucci on the case, in my opinion. In my opinion, this is one of several examples of the kind of corruption Marc and I were fighting, and the reason he had to be taken out.
Judge Powell got a huge belly laugh out of that one!
California Dispute Resolution Counsel
Michael Powell, is Vice President of the American Arbitration Association (AAA). He was appointed Vice President of AAA's Los Angeles office in September 2000. He is primarily responsible for expanding the use of AAA's construction, real property and environmental dispute resolution services in Arizona, California, Guam and Hawaii. In addition to his immediate responsibilities, he works nationally to develop AAA's construction mediation caseload, working closely with construction industry companies, law firms, associations and trade groups. In this capacity, Mr. Powell assists in designing dispute resolution systems to meet their specific needs. He is an active speaker, trainer and writer in the dispute resolution field. Mr. Powell also serves as a liaison to the General Counsel's office on California legislation.
---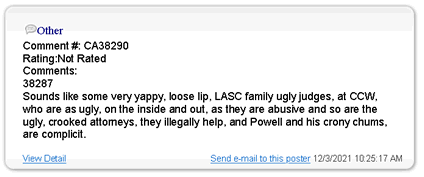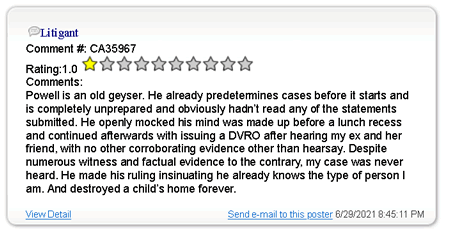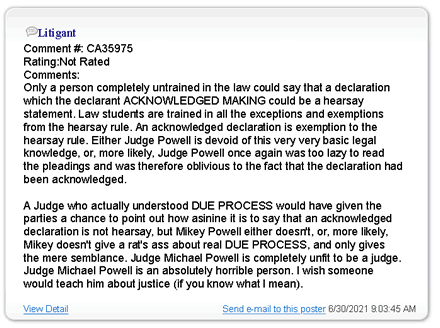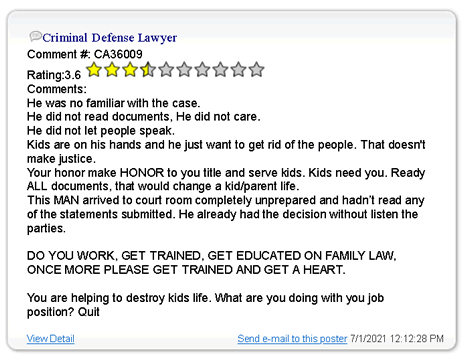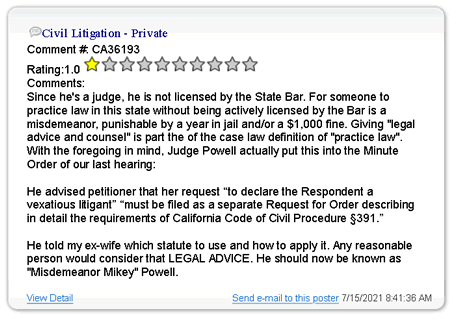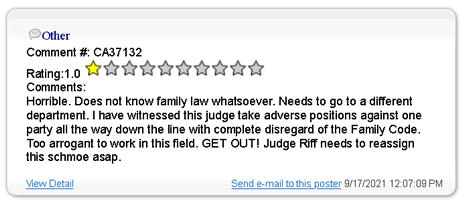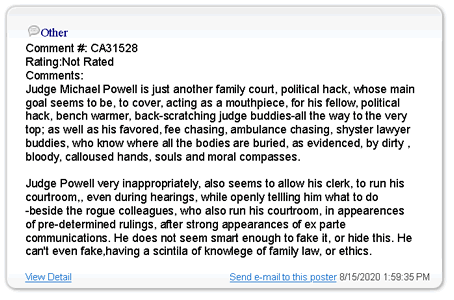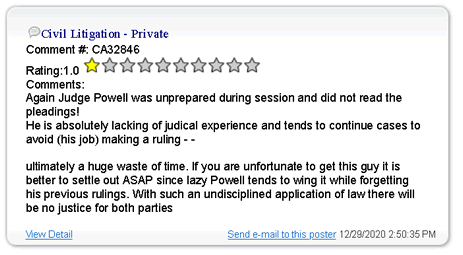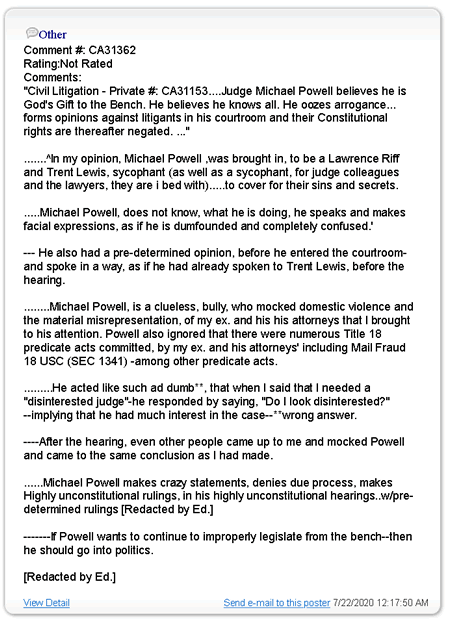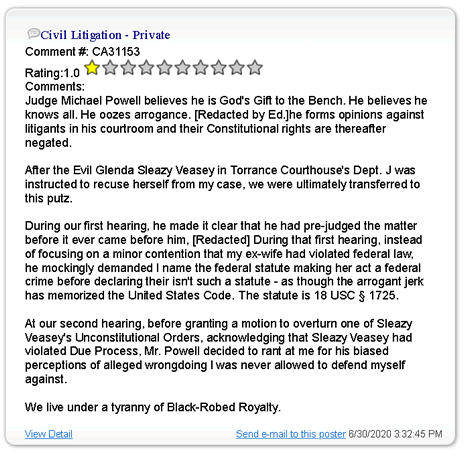 ---