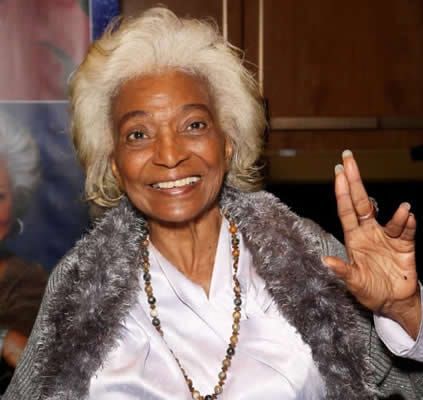 >
---
Star Trek's Nichelle Nichols Suffers Minor Stroke
Johnson filed a petition in 2018 to assign a conservator for his mother. In the petition, Johnson claimed that Nichols needed court-ordered protection because certain "individuals have unduly exerted themselves into Ms. Nichols' life to her detriment."
ATLANTA, Ga. (CBS46) — African American icon and Hollywood star Nichelle Nichols is in a battle for guardianship of her own life. CBS46 obtained alarming audio where Nichols is heard screaming for her life. Sources with the Los Angeles Police Department have been contacted, but an official investigation has yet to be launched.
Nichols made history more than 50 years ago when her Star Trek character Uhura kissed Captain Kirk. She was a black actress doing the unthinkable onscreen only a year after interracial marriage was deemed legal.
Today, the 86-year-old Sci-Fi icon is reportedly suffering from Dementia, and a guardianship fight involving her son. Long-time handlers and friends claim the son has ill intentions. In the audio, Nichols is heard saying, "I'm the boss of me Gill, he's not the boss of me."
Gilbert Bell, who says he is Nichols long-time friend and manager, sent us the video. He claims it shows Nichols looking over court documents — filed by her son in an attempt to gain control of her estate — for the first time.
But as Bell puts the camera down, but keeps rolling, she is head saying, "I didn't give permission to have conservatorship over me. I didn't know what he was doing." When her son allegedly enters the room to shut down the meeting between his mother and Bell, you can hear Nichols reacting with screams.
"You get your hands off me. You're trying to get rid of me," screamed Nichols. The CBS46 Bulldog spoke with Nichol's son, he said his mother doesn't have a management team, but declined to comment or refute accusations made against him or the recording. FULL STORY
Longtime associates of the actress recently spoke out against her son, who has been named her legal conservator by a court
Friends say Nichelle Nichols' son does not have good intentions.
Following the release of the audio, the Los Angeles Police Department (LAPD) was dispatched to do a wellness check on Nichols Tuesday, but have declined to comment further.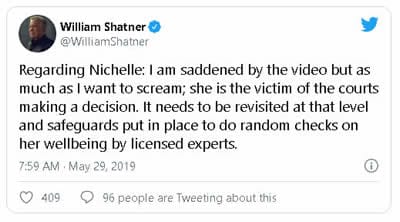 Problem is Captain Kirk does not know those licensed experts and court people are in fact the vultures and leeches committing the abuses and helping the dishonest families to commit the fraud and abuse
---
NEWS STORIES
Star Trek star Nichelle Nichols screams for her life in conservatorship battle
Nichelle Nichols Attends Star Trek Convention with Son amid Battle Over Her Conservatorship
Nichols' Son Has Restraining Order Served Against Him
Video Shows 'Star Trek' Actress Screaming 'For Her Life' As Son Moves To Control Her Estate
VIDEO
'Star Trek' Icon Screaming War With Son | TMZ Live

'Star Trek' Actress Heard Screaming for Help

Nichelle Nichols co-stars speak out amid guardianship battle

Face to Face with Star Trek's Nichelle Nichols

---