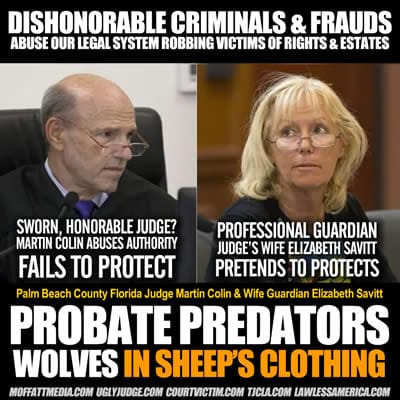 FLORIDA-This week's "Wall of Shame" recognition goes to Palm Beach County Florida where fraudulent adult guardianships have flourished for decades. Judges Martin Colin and David French use to award them before they retired and now Judge Sarah Willis continues to sponsor the predators.
Attorneys Brian O'Connell and Ashley Crispin Ackal and "professional" guardian Amy Nicol have been working "money" guardianships for decades. O'Connell and Ackal were the primary counsel for "professional" guardian Curtis Rogers, who continues to operate in Palm Beach County, when they lost a $16.4 million federal breach of fiduciary duty lawsuit in 2017 in the fraudulent adult guardianship of Oliver Bivins.
Amy Nicol worked with the Florida Department of Children and Families and her attorney Edward Shipe in 1998 to gain a fraudulent guardianship over Ruth Turgeon, 85. Ruth and her niece Mary Morgan objected and were ultimately able to transfer the guardianship to Morgan but as soon as they made plans to have Turgeon leave Palm Beach County the court blocked it and assigned Nicol as court monitor and Shipe as the attorney ad litem to determine the appropriateness of the move.
Yes, the very same parties who initiated and benefited from the fraudulent guardianship were appointed by the court to investigate the prevailing family guardian. I can't make this up!! Naturally Turgeon's move was denied and Shipe and Nicol's bills were paid by Turgeon's estate as the guardianship stayed in Palm Beach County. Morgan and Turgeon appealed the decision and appellate court remanded it back to the 15th Circuit for reconsideration. A redo loop that likely cost the Turgeon family over $100,000 in legal fees. In guardianship every attorney wins, win or lose.
Now Amy Nicol has teamed up with Finnish American Village Nursing Home(FAV) in Lake Worth and O'Connell and Crispin Ackal to successfully use adult guardianship for debt collection and risk mitigation by FAV in the guardianship of Ilse Schafer. Ilse is the mother of 2016 "Mrs Florida" Karyn Turk and died under suspicious circumstances in FAV in June 2019 while under Nicol's guardianship.
There is much more to be revealed on this case as litigation continues but sadly Palm Beach County, even with its highly promoted guardianship fraud investigative unit lead by County Clerk and Comptroller Sharon Bock and Deputy Inspector General Clerk & Comptroller Anthony Palmieri, continues to embrace predatory attorneys and their intent to estate traffick and condemn family members.
If you or someone you know has been affected by the above please take the time to help us get the word out and submit your info.
If multiple abusers submit the form separately for each abuser

Add Judges Name and info below:
Add your email address in case we have questions. We will always keep your email and name confidential. Include the courts and victims County and State
---