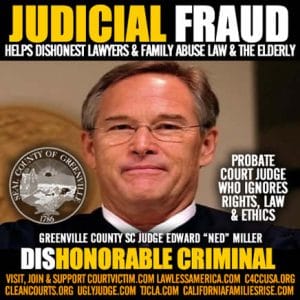 Guardianship in South Carolina is a state sponsored Dept of Disabilities and Special Needs (DDSN) and state Bar insider affair. All adult guardianship records are sealed and only first order family members who can find and afford an honest attorney can be assured of seeing pleadings. Most hearings are closed. Oversight or independent investigations nearly impossible to obtain. The state actively encourages parents of disabled children to place them under guardianship as soon as they turn 18 as the Medicaid Waivers stipends are valued resources for the state.
Brenda Bryant, 66 is the mother of vulnerable adult Stephanie Bryant, 47. Stephanie was born in 1973 and never developed mentally beyond a first grade level. Brenda and her husband Rickey have been devoted to each other and Stephanie for over 47 years. As Stephanie approached 18 and was still enrolled in high school, DDSN requested Brenda place her in a group home as they claimed Stephanie would no longer benefit from secondary education. When Brenda refused the state took Stephanie from school in late October 1991, as she turned 18 and placed Stephanie in isolation in an unknown location.
Three months later Brenda and Rickey were finally allowed contact with their daughter. She reported she was being abused and sexually harassed and fondled at Babcock Center, a 501(c)(3) adult day care and group home, near Columbia. The "professionals" in charge of Stephanie refused to investigate. On August 30, 1995 Stephanie was coerced to leave the facility by two men under the auspices of a rescue. She was taken to a nearby home, assaulted and raped and returned to the facility the following day.
Stephanie was able to find a phone and call Brenda to report the incident. With Brenda's demands and Stephanie's injuries she was taken to a hospital, where Brenda and Rickey found her and were able to protect their daughter. They demanded Stephanie's wounds be treated and a rape kit administered. Stephanie's physical injuries and the rape test confirmed she had been raped. When Babcock Center discovered Brenda was assisting her daughter they immediately took action to isolate Stephanie again and remind anyone investigating that the state was her guardian and they were ensuring Stephanie's safety.
Brenda continued to fight for her daughter by filing a criminal complaint with the police, two civil suits against the facility and SCDDSN for negligence, and to become her daughter's guardian. The DA refused to prosecute the rape indicating the men claimed they had consensual sex with Stephanie.
Brenda and Rickey fought hard for Stephanie and over the next two years litigated their civil suits and Stephanie escaped again returning to live with her parents. In 1997 Brenda was appointed as guardian and conservator of Stephanie. Brenda eventually prevailed in the civil case against Babcock Center and in 2005 Stephanie settled for $250,000 for their negligence. More than half the settlement was taken for attorneys fees.
With the settlement retaliation commenced against the Bryant's. With the SSDN suit still open, the attorneys sponsored defamatory attacks against Brenda and Rickey to disqualify them as Stephanie's guardian. Brenda and Rickey did a great job caring for Stephanie her entire life. However, when state authorities realized they could lose the SSDN suit they needed options and every predatory probate attorney knows they can mitigate liability by gaining guardianship over a victim of negligence.
In April 2008 Judge Edward Sauvain made attorney Theresa Horton the guardian ad litem for Stephanie. She did her job undermining Brenda and Rickey and later that year Brenda was replaced as guardian and conservator of Stephanie. Professional guardian Tracy Parsons was appointed and immediately reinstitutionalized Stephanie. Judge Sauvain ordered Brenda personally pay $10,000 in fees to Ms. Parsons for her services to Stephanie.
The order to remove Brenda as guardian and have her pay her daughter's perpetrator was an insult to Brenda. It would be to any loving and dedicated parent who had lost 17 years and $100,000s paying attorneys trying to protect their child from predators and the state. She refused to pay and Judge Sauvain charged Brenda with civil contempt and jailed her. When Brenda was released on bail she fled South Carolina.
Brenda has been on the run for 12 years. She has been jailed two additional times due to the open bench warrant that former Judge Sauvain and current Judge Edward Miller continue to defend. Local police, where Brenda fled, view the warrant as "junk" and released her both times after they realized no one was going to pay to extradite her to South Carolina.
I was at the Capitol on Wednesday to hear testimony, the second time in 6 years for Rickey, to the Judicial Merit Commission of the SC legislature in opposition to the reinstatement of Judge Edward Miller for another 6 year term. Rickey testified about how "guardianship" had destroyed his daughter, his wife, their marriage, their finances and he sustained three heart attacks. His testimony was compelling. In response Judge Miller defended "I had no choice but to uphold the order…she refused to honor Judge Sauvain's order to pay the bill".
Attorneys Horton and Pillsbury are players at the state Capitol and in South Carolina guardianship and civil litigation circles. Their greed, and Judges Miller and Sauvain's arrogance, have destroyed the Bryant family financially, physically, and psychologically. Only the South Carolina state Bar in their greed and arrogance could justify putting this loving and dedicated family through their living hell for the last 29 years.
Brenda and Rickey haven't seen Stephanie since 2011 and they haven't spoken to her in several months. Stephanie's current welfare and condition is unknown. The Bryant family has lost over $1 million and experienced immeasurable mental trauma as a result of their commitment and love for their daughter, but they remain committed.
Judge Miller will likely be reinstated when the legislature votes in February. Guardianship in America, a system only attorneys can defend.
---
---