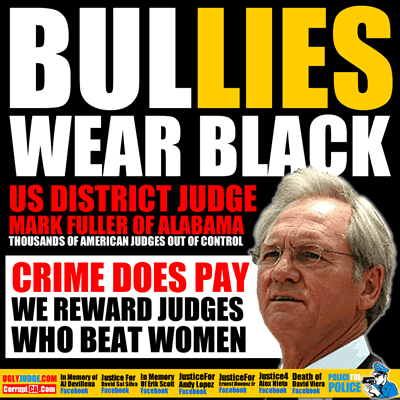 Alabama Federal Judge Mark Fuller is a fraud
KARMA has caught up with the scumbag judge Mark Fuller, fact is he has a history of problems and has victimized people but their cries went unheard. Police don't investigate crimes by judges when the normal citizen reports them. Even when hundreds of people report them. Why would police want to unset the apple cart and arrest a judge who they need to help them?
The media needs to expose what's really going on in America, we have dishonest police working with dishonest judges while the good judges and police do nothing and remain silent.
The Case for Impeaching Federal Judge Mark Fuller

Fuller arrested, charged with domestic violence
On August 9, 2014, Judge Fuller was reportedly arrested and charged with domestic violence. Police arrived at the Ritz Carlton on 181 Peachtree Street in Atlanta, responding to a call. Officers questioned a woman who stated she had been assaulted by Fuller, her husband. Officers also noted that the complainant had sustained injuries.
Fuller was charged with misdemeanor battery and spent the night in jail. He appeared before Chief Magistrate Stephanie C. Davis and was released on a $5,000 signature bond. His next hearing, on probable cause, took place on September 5, 2014.
This was not the first time Fuller had been accused of domestic violence. His divorce records from a prior marriage accused Fuller of domestic violence as well as drug abuse and extramarital affairs.
Update September 2014
Fuller accepted a plea deal on September 5, 2014, whereby he could have his misdemeanor battery charge dismissed and his record expunged contingent upon the completion of a 24-week court program. The program would include a domestic violence program, court-approved counseling, and alcohol and substance abuse testing.
Upon accepting the plea deal, Fuller stated:
" I reached this difficult decision after consulting with my family, and deciding that it was in everyone's best interests to put this incident behind us. While I regret that my decision means that the full and complete facts regarding this incident will likely not come out, I have no doubt that it is what is best for all involved. "
Response from public officials
In September 2014, members of Alabama's congressional delegation called on Judge Fuller to resign from the court, regardless of the results of the investigation by the Eleventh Circuit.
Representative Terri Sewell released a statement calling for Fuller's resignation. In the statement, Sewell said:
" All acts of domestic violence are unacceptable and should not be tolerated. No one committing such abusive acts should get a pass. This is especially true for those charged with upholding and enforcing the law. Judge Fuller has violated the public trust and should resign. "
Both Alabama Senators, Richard Shelby and Jeff Sessions, also called on Fuller to resign. Sewell gave Fuller until November 12, 2014, (the date Congress reconvened) to resign. Sewell stated that if Fuller had not resigned by then, she would take action to start an impeachment process.
Update November 2014
On November 12, 2014, Rep. Sewell sent a letter to the House Judiciary Committee urging for an investigation as to whether or not Fuller should be impeached. She further stated that she was prepared to file an impeachment resolution in January at the start of the 114th Congress. The full text of the letter can be read here. Sewell did not file an impeachment resolution. The issue was addressed by the Eleventh Circuit Court of Appeals and the Senate Judiciary Committee, leading to Fuller's resignation.
Update February 2015
An evidentiary hearing was held in 2015 from February 9 through February 11 in the matter of Fuller's domestic violence arrest. A special committee comprised of Judge Gerald Tjoflat of the United States Court of Appeals for the 11th Circuit, two other circuit judges, and two district court judges was appointed to conduct the investigation and preside over the hearing. Twenty witnesses provided testimony and included Fuller, his wife, the arresting police officers, and employees of the Ritz Carlton hotel. The United States Court of Appeals for the 11th Circuit conducted its own investigation of Fuller since the arrest. A federal appeals court has the authority to investigate and discipline federal judges in their circuit, but does not have the authority to remove them from the bench.
Special committee findings with recommendations for discipline are usually sent to the circuit's judicial council. If the council finds there is actionable misconduct which calls for impeachment, it may send the matter to the national judicial conference which may then send it up to the United States House of Representatives for a potential impeachment hearing.
In April 2015, a letter sent from Sen. Chuck Grassley, the chairman of the U.S. Senate Judiciary Committee, to the United States Court of Appeals for the 11th Circuit. He asked for an expeditious determination of Fuller's case, which had been under investigation for months.
Update June 2015
In June 2015, Fuller announced he would resign from the bench on August 1, 2015. If he had not announced his plans to resign, Fuller may have faced impeachment. The Judicial Council of the 11th Circuit, stated that Fuller's actions "might constitute one or more grounds for impeachment under article II of the Constitution." The council had since stated that the matter would be referred to the Judicial Conference of the United States.
Mark Everett Fuller, Judge Not … Has a history of crime
What should worry every American is how easy it is for criminals, bullies, liars and dishonest people to become a judge. Oaths mean nothing to psychopaths and liars which is how these people get onto the bench. The fact is getting them off the bench can be near impossible and they know it. There is no accountability or transparency and more often than less they are immune to prosecution. We must change this and demand immunity and all protection is removed from any and all judges who lie, abuse rights and fail to obey law. They should receive the harassed punishment and be judged by the public not other judges. We have to set an example and can't count on an American bar which is made up of nothing but more judges and lawyers, many who are biased friends of these monsters and criminals.
Saturday, August 9, 2014 Judge Mark Fuller was arrested on a charge of misdemeanor battery for domestic violence involving his wife, following her allegation that he was having an affair with a law clerk employee. Fuller was jailed overnight following his arrest. If this were anyone else you'd still be sitting in jail and lose your life savings.
These are criminals no doubt about it, however the real problem is their often held above the law. Which is exactly why they do what they do, they have no fear.
According to the police report, an argument at a Ritz Carlton hotel between the judge Mark Fuller and his wife turned into a physical fight, which resulted in his wife sustaining visible injuries.
Each side blames the other, but the evidence shows that Judge Mark Fuller was to blame. His wife was covered in cuts and bruises and there was blood all over the room, but Judge Mark Fuller claims he was the one who was attacked, and he was only defending himself.
Police were called because the woman dialed 911 crying and telling the operator that Judge Mark Fuller was beating her.
Judge Mark Fuller's 17-year-old son was at the hotel when the beating occurred, and confirmed his mother's story, telling police this was not the first time that Judge Mark Fuller beat his wife.
Judge Mark Fuller Arrested For Domestic Violence Will Keep $200,000 Per Year Salary

Arrested US judge Mark Fuller embarrassed, entering treatment program
Federal Judge Mark Fuller Beat His Wife
Federal Judge Hit Wife in Argument
U.S. District Judge Mark Fuller will resign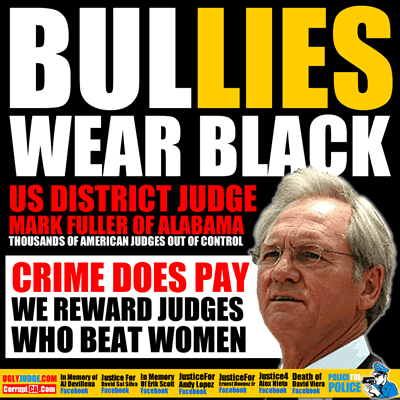 ---