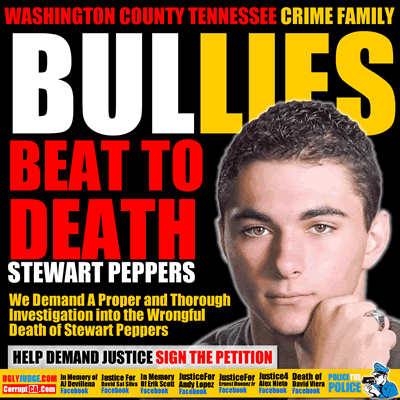 Stewart Peppers
PLEASE SHOW YOUR SUPPORT, Sign the petition to investigate the wrongful death of Stewart Peppers SIGN HERE
Obituary & Guest Book Preview for STEWART WYATT PEPPERS
Stewart Peppers Obituary

Washington County Sheriff Ed Graybeal and a handful of corrections officers at the Washington County Detention Center are adamantly denying allegations that Stewart Peppers was beaten to death inside the jail in April.
The parents of Stewart Peppers, who died on April 29 while incarcerated at the jail, filed a $20 million lawsuit in federal court against the sheriff and his jailers in July. The suit claims Stewart Peppers died because of injuries he sustained in an alleged 20-minute beating by corrections officers at the jail.
Stewart Peppers had been in the jail for three days.
All parties agree that Stewart Peppers was being housed alone, in a single cell on April 29 when he became incensed and began shouting obscenities at jail personnel on duty that day.
Stewart Peppers' parents say their son endured an initial beating when officers entered his cell, then strapped him to a restraint chair and again beat him even though he was unable to move.
They also claim chemical sprays and a Taser were used on the 22-year-old.
In an answer to the complaint, which was filed in U.S. District Court on Aug. 9, the defendants admit to using both a Taser and chemical spray on Stewart Peppers, but deny any beating took place.
Did inmate die from anabolic steroids and pot or beating/tasering by prison guards?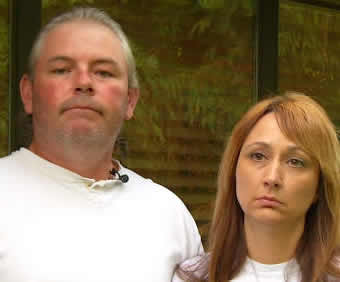 Joe and Natasha Peppers the parents of Stewart Peppers
Stewart Peppers, 22, died on April 29, 2013. He was arrested and held for three days in the Washington County jail. His family claims Stewart Peppers was beaten to death by half a dozen corrections officers there and filed a lawsuit as a result. The family's attorney says the process is taking longer to move forward.

The Stewart Peppers' federal lawsuit was filed in July of last year. They seek $21 million in damages on civil rights violations and wrongful death grounds against Washington County, the sheriff and six Washington County jail corrections officers.

The Peppers' attorney says he has eye witness testimony that Stewart Pepper was beaten to death in a holding cell.
Stewart Peppers National Masters Body Building Champion
Sevierville family still searching for answers a year after son died in Washington Co. jail
Jailers deny beating inmate to death
Suit filed in Washington County inmate death
Relative wants answers in WCDC inmate's death
What really happened in jail incident that left inmate dead?
Officals: Autopsy shows Washington County inmate died from 'excited delirium' resulting from drug use
No charges in death of Washington County inmate

Discussion
Washington County inmate dies in Jonesborough jail
Stewart Peppers on MySpace
Videos In Memory of Stewart Peppers
Who was murdered by criminals who are still free today