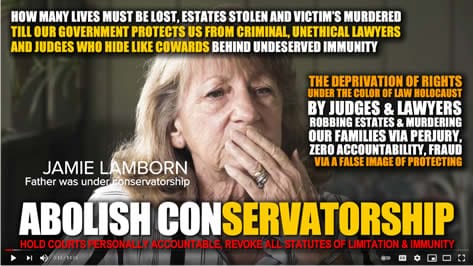 The Price of Care: Investigating California Conservatorships | 'Civil Death' (Ep. 1 of 5)

The Price of Care: Investigating California Conservatorships | 'Patterns of Control (Ep. 2 of 5)

The Price of Care: Investigating California Conservatorships | 'The Old Boys' Club' (Ep. 3 of 5)

The Price of Care: Investigating California Conservatorships | 'The Fight for Accountability' (4/5)

The Price of Care: Investigating California Conservatorships | 'Set Up for Failure' (5 of 5)

The Price of Care: Live Q&A with experts explaining conservatorships in California
Many have heard of conservatorships recently by way of Britney Spears or the Golden Globe winning Netflix film, "I Care a Lot." But the concept of a conservatorship–or guardianship–dates to Roman times.
Today, conservatorships are when another person is court-appointed to help someone who cannot take care of themselves. It's a powerful position. When a conservator is appointed, they gain control over another person's life – what they eat, who they see, where they live, what medical care they receive —all while handling their money and assets.
As the baby boomer generation ages, conservatorships are becoming more common for one of our most vulnerable demographics: our elderly. And while many conservatorships do help those who need it, our year-long investigation found a system that controls a massive amount of other people's money – just under $13 billion in California alone — as well as personal freedom, with little oversight from state regulators, opening the door to potential financial, physical and emotional abuse.
Conservatorships in California: Everything you need to know: https://www.abc10.com/article/news/lo…
Subscribe at: https://goo.gl/vai8Eu
Find ABC10 online: https://www.abc10.com/
Sign up for our newsletter: https://www.abc10.com/email
Stream ABC10 on Roku: https://channelstore.roku.com/details…
Stream ABC10 on Amazon Fire: https://www.amazon.com/Gannett-Broadc…
Stream ABC10 on AppleTV: https://itunes.apple.com/us/app/abc10…
Like ABC10 on Facebook: https://www.facebook.com/ABC10tv/
Like ABC10 on Instagram: https://www.instagram.com/abc10tv
Follow ABC10 on Twitter: https://twitter.com/ABC10
App download Android: https://play.google.com/store/apps/de…
App download iPhone: https://apps.apple.com/us/app/abc10-n…
---