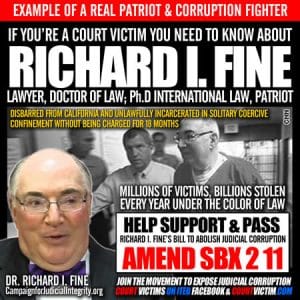 Dr. Richard I. Fine
Strategic Consultant at Richard I. Fine & Associates
Richard's Profile
linkedin.com/in/richardfine

Websites
richardfinelaw.com (Company)
campaignforjudicialintegrity.org (Company)
Supporting Videos
EXPERIENCE
Mediator
Feb 2015 – Present · 7 yrs 6 mos
I decided to become a mediator because it was a natural extension of my life experiences and philosophy.
My extensive experience as a practicing lawyer and strategic consultant demonstrated that almost all conflicts which result in legal disputes can be resolved through addressing the true underlying causes in addition to the surface reasons and issues expressed, Based upon this experience, I became certified as a mediator by completing the American Institute of Mediatiion's certification course.
My experiences prior to becoming a mediator were unique. Unlike most mediators, whose prior experiences were limited to a legal education and experience as a judge or lawyer in a limited area of law, I bring to the mediation unparalleled academic qualifications, legal experience and strategic consulting knowledge.
This experience in conjunction with my personal philosophy that addressing the true underlying causes, mutual respect and determination to achieve a solution will inevitably resolve the conflict or lead to its resolution.
I am available to mediate anywhere in the U.S. or elsewhere in any type of conflict.
After 50 years of practicing law and strategic consulting, I added mediation to the services available to my clients by receiving the Certification of Completion for Mediating Commercial and Litigated Cases from the American Institute of Mediation.
This service will be distinct from other mediators in that it offers the benefit of a unique international legal education through a Ph.D. in International Law, diplomatic experience as Consul General for the Kingdom of Norway in Los Angeles [five Southern California Counties], extensive [45 year] practicing law involving precedent setting cases in numerous areas of law, and years of strategic consulting.
No other, or very few mediators, can bring this experience to your situation.
This experience in conjunction with the philosophy to address the real underlying causes of the conflict and dedication to work with you will hopefully achieve for you a form of resolution of the conflict or total resolution of the conflict.
I am available to mediate in the U.S. and abroad.
---
Founder and Chairman
Campaign for Judicial Integrity
May 2012 – Present · 10 yrs 3 mos
Greater Los Angeles Area Greater Los Angeles Area
The Campaign for Judicial Integrity is a grass roots organization dedicated to restoring and achieving integrity in the American judiciary.
In California, since 1985 over $400 million was paid in "bribes" by counties to over 90% of the state judges. This resulted in institutional corruption of the judiciary and the judicial system in which every decision involving a county was void.
On 2/20/09, over 2/3 of the California Legislature enacted SBX 2 11 which effectively impeached 90% of the California state judges and gave retroactive immunity from criminal prosecution, civil liability and disciplinary action to these state judges and the county supervisors who gave them criminal payments ("bribes") from county taxpayer monies.
These "bribes" violated both state law and the federal criminal law of the "intangible right to honest services."
In the April/May of 2013, the Campaign proposed an Amendment to SBX 2 11 (also known as the Fine Amendment) which will remove from office the state judges and county supervisors who received the retroactive immunity from state criminal prosecution and will stop any state contributions to these judges retirement funds.
This will remove the corruption and save the taxpayers $20 million per year and $450 million over the next 25 years.
The Campaign is requesting voters to visit the campaign website: http://www.campaignforjudicialintegrity.org to find their state senators and assembly members and to spend 2 minutes to contact them through the website to urge their state senator, assembly member, President Pro Tem of the State Senate, Speaker of the State Assembly and leaders of the party caucuses to introduce, support, enact the Amendment and report back to them.
During the same visit to the website the voter can find his/her county supervisors and urge them to stop the "bribes" still being paid to the state judges.
This will save an additional $30-35 million per year for a total savings of $50-55 million per year.
---
Strategic Consultant Strategic Consultant
Richard I. Fine & Associates
Full-time Oct 2007 – Present · 14 yrs 10 mos
Santa Barbara, California, United States
---
Owner
Richard I. Fine & Associates; Consul General of Norway (1995-2010)
Oct 1974 – Present · 47 yrs 10 mos
Richard I. Fine & Associates is unique.It has been retained by governments, multinational and domestic corporations, and individuals to solve a diverse range of public and private problems.
Fine and the firm are recognized for finding unique solutions to difficult and complex problems.
Fine and the firm presently act as strategic consultants in anti corruption, business, governance, international and comparative law, government, judicial and political corruption, legal and litigation oversight and rule of law matters.
Previously as a law firm and now as a strategic consulting firm, corporations use the firm to resolve a multitude of legal concerns. Individuals seek the firm's help to protect their rights. Taxpayers, public interest groups and others retain the firm to stop the abuse of governmental power, confront government, judicial and political corruption and safeguard constitutional rights.
Fine litigated cases in both Federal and State courts while remaining small, supremely client-oriented, and addressing interests on a local, national and global scale. Sovereign nations retained the firm to protect their diplomats.
Fine's work reformed the way that charitable donations are processed in America; returned to, and saved taxpayers approximately $1 billion of monies illegally taken by California State, county and municipal governments; changed the functioning of governments, and exposed and litigated government, judicial and political corruption.
On a more individual level, the firm won millions of dollars for its clients and protected their personal interests in civil, criminal and immigration matters.
Additionally, Fine served as Consul General for the Kingdom of Norway in Southern California for fifteen years and Second Vice Dean of the Los Angeles Consular Corps for two years.
Fine recently drafted the most advanced international treaty on friendship, commerce, navigation and diplomatic recognition now being signed by sovereign nations.
---
Chief, Antitrust Division ; Special Counsel, Governmental Efficiency Committee, LA City Council
City of Los Angeles
Oct 1973 – Oct 1974 · 1 yr 1 mo
Was recruited into the City Government as Special Counsel to the Governmental Efficiency Committee to investigate the former mayor and others for corruption. After completing this assignment, I founded the first municipal antitrust division in the United States. It investigated and pursued cases on behalf of the City of Los Angeles for violations of state and Federal laws and started a consumer program to enforce consumer laws.
---
Attorney
Swerdlow, Glikbarg & Shimer
Oct 1972 – Oct 1973 · 1 yr 1 mo
Was recruited in Washington, D.C. by this firm to move to Beverly Hills, to practice antitrust law, class action law, and litigation relating to the entertainment industry. Additionally, interesting questions of international law arose during some of the litigation.
---
Attorney
United States Department of Justice, Antitrust Division
1968 – 1972 · 4 yrs
I was in the Foreign Commerce Section of the Antitrust Division in Washington, D.C. I developed, and was involved in the Grand Jury investigation of the international Pulp, Paper and Newsprint industry, which occurred in New York City. I was involved in the investigation of international mergers and joint ventures, and I led the first Justice Department participation in a Tariff Commission Hearing (now International Trade Commission). From 1970-72, I led the team which developed the Grand Jury indictments and civil cases against GM and Ford for price fixing in the sale of fleet cars.
---
Attorney
Coudert Brothers
Oct 1967 – Oct 1968 · 1 yr 1 mo
Practiced international and comparative law in the London office of a pre-eminent international law firm, working directly with Alexis Coudert, the senior partner of the firm. Stayed for one year after completing my Ph.D, while the U.S. Government was completing my clearances to work with the U.S. Department of Justice.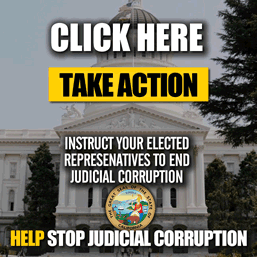 ---
MORE ON DR. RICHARD I. FINE AND AMEND SBX 2 11

---