THE MARIPOSA COUNTY CORRUPTION CASE OF JERRY COX
Help this good man fight to get his home back!
False accuser, Ashley K. Harris, "CRIES WOLF" and says that she was "KIDNAPPED " at this Cabin in the Woods in Mariposa County California for 3 days and RAPED! Where Ashley resides, a female judge, in San Luis Obispo Superior Court sees thru her web of lies, CASE DISMISSED!
Back in Mariposa County, the innocent accused man, Jerry Cox, had to pay $500,000 bail, and $100,000+ in attorney fees to bring justice to the surface against 15 felonies on phoney rape and kidnapping charges and now is on the brink of loosing everything! How ? Mariposa County Officials retaliate by manipulating their backwoods court to sell his home, business, and life savings for the sole purposes to remove him out of their community in reach for their personal and financial gains.
Prior to paying a $500,000 bail, Jerry Cox was arrested and behind bars for 30 days on these false "KIDNAPPING and RAPE charges! This is when the Mariposa Sheriff's Department came out to his home and "SHOT" in cold blood his beloved furry family member dogs "Arrow", "BoBo" and "Lit'l Duke!
After arming guards at Jerry's home for no reason and rendering him homeless for 2 years, his very own County authorities mocked and bullied what they have done to this innocent man after everything he was already going through. Below is just one example out of many!
Our goal is to raise funds in order to continue the fight against Mariposa County and their corrupt government officials who believe they can act with impunity and charge the innocent with heinous crimes and take life, liberty and property all because someone dared to challenge the authorities who prosecute. Jerry Cox's fight for life, liberty and property will send a strong message that "We the people" will stand up for what is right! False accusers, lawyers that lie under oath, dirty cops, and corrupt elected officials need to be behind bars!
Follow us on Facebook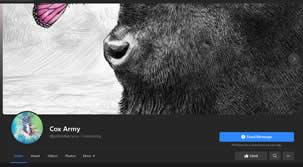 ---
Jerry Cox
Jerry Cox Lawyer Marc Angelucci Executed
Victimized by Mariposa County Judge Dana Walton
Jerry Cox was Framed and Railroaded by Mariposa County
A 46-year-old Mariposa man has been arrested on suspicion of raping a woman he met on a dating website for farmers, the Mariposa County Sheriff's Office reported Monday.
Jerry Cox is accused of holding the alleged victim against her will on Friday afternoon and sexually assaulting her, according to Kristi Mitchell, a sheriff's spokeswoman.
Authorities gave little information about the woman, saying only she was an adult from outside the county.
Cox remained in custody Monday at the Mariposa County Jail on suspicion of rape, false imprisonment, kidnapping and making criminal threats, all felonies. His bail was set at $500,000.
FULL STORY
A RANCHERS FIGHT TO RESTORE HIS NAME, REPUTATION, HOME, AND DREAM…
For the past 4 years, Jerry Cox has been living what can only be described as a nightmare. Falsely accused of rape, his name and face plastered as a rapist statewide, his dogs shot in cold blood, his home seized and placed into Receivership, , and publicly mocked by a local county Supervisor.It seems as if there is no end in sight sometimes, as the appointed receiver, (who has already been found guilty of fraud in other counties) has demanded close to $600k, for his services (?) and has decided that selling Jerry's home, his dream, for a pittance is the only answer. The presiding judge, who decides the fate of Jerry's home is the same Judge who presided over the false rape case.There are so many unanswered questions, and things that don't add up.
Despite it all, one can't help but admire the fortitude and optimism with which Mr Cox faces this. He shouldn't be facing this alone.With public awareness, support, and knowledge, perhaps he can help others from going through the same. As far as the government is concerned, silence is consent.
FULL STORY
Be sure to view the Jerry Cox Videos below
Please show your support by donating what you can to Jerry Cox to expose Mariposa Corruption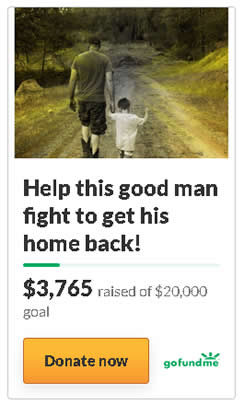 ---
Ashley Harris Fictim of Sexual Assault
Mariposa County, California. Conning the system by fictimhood, or fake victimhood supported by crooked authorities to swindle a man out of his own property. Whichever perspective fits, Ashley Harris obtained fake rape victim benefits while the falsely accused man lost everything to an apparently flawed justice system and allegedly corrupt County Officials.
November 13, 2015
After having spent three fun days on a man's ranch, Ashley Harris (AKA Ashley K. Harris, AKA Ashley Krystal Harris) and her "friend" were reportedly asked by the property owner to leave the cabin so he could clean up the place for expected visitors. Unhappy with the treatment, Ashley and the "friend" decided to go grab a few drinks in a restaurant before going to the California Highway Patrol (CHP) Office where Ashley reported that she had been kidnapped, held against her will, sodomized and repeatedly raped for three days by the ranch owner.
She claimed she had met the ranch owner on a Farmers' Dating Website three weeks earlier and was invited to the ranch. But when she visited, she alleged, she was held in a cabin and forcefully raped until she managed to escape on the third day. Ashley Harris had some made-up bruises on her face to show for it. Rather than take her to a hospital for treatment and rape kit, Ashley K. Harris and her allegations were transferred to the Mariposa County Sheriff's Office. Perhaps the CHP smelled falsehood from the onset? The answer to this is politically incorrect.
Following the report, though, the accused ranch owner was arrested and charged with 15 felonies that would have potentially gotten him a life sentence 3 times over, if convicted. His bond was set at a whopping $500,000, a warrant was issued for his ranch which was searched while he was detained. After spending almost a month behind bars, he was able to pay the required 10% through bondsman agency allegedly owned by one of Mariposa County's officials. By the time he was released on bail, his dogs on his property were shot dead by the authorities, with an excuse that they were "chasing horses."
Meanwhile, an investigation into the rape allegations proved the incident was more unlikely than not. Beyond that, some other dirt was uncovered on the rape liar herself, Ashley Harris.
1. Prior to visiting the ranch, Ashley Harris sent a sexualized photo of herself in a bikini, objectifying herself and offering her backside and suggesting her horniness for whatever it was worth to the male ranch owner. That clearly shows she went to the ranch with sexual intentions. As a policy, we choose to not display Ashley's porn-like photo on our website.
2. Ashley Harris reported that she met the man for the first time on November 11th, 2015, the day she claimed to have been falsely imprisoned by him. However, when a CHP trooper reviewed her phone, he discovered evidence that Ashley Harris had known the accused man for about six weeks and met him more than once.
3. Ashley Harris had reported that while in the ranch, her cellphone had no signal reception hence she was unable to call for help. However, what was discovered on her phone refuted that claim: Over a hundred text messages received and sent by her during that time, some in romantic tones, some of which asked the accused ranch owner when he's coming back home. A person held against her will would not send such messages, let alone in lieu of rather expressing distress and calling others for help.
In fact, Ashley Harris called other people through her cellphone during the time she claimed to have been held captive, including her mom, and a friend with whom she spent 24 minutes on the phone without mentioning anything about her alleged ongoing victimization by the ranch owner.
4. Ashley Harris also claimed that besides the absence of a signal on her phone, she had no access to any other phone to call out, when, in fact, there was a landline wall phone hanging in the cabin the whole time and working just fine.
5. Other people living in other rooms in the wooden cabin heard and/or witnessed nothing that corroborates Ashley Harris's victimhood claims. In fact, another female who slept right below the room where the fictim claims to have been raped said she herself is a rape survivor and if Ashley would have shown the slightest sign of distress let alone scream, she could have gotten help immediately. But there was no distress of any sort.
6. The bruises on Ashley Harris's face which she showed as evidence of abuse was cosmetic makeup. What a joke. Even her female accomplice was played on this one but later testified in court.
7. Ashley Harris lied multiple times during the investigation and even in her court testimonies. She changed her story multiple times. It was also discovered she made contradictory sworn statements on another/unrelated case of worker's compensation in which she denied ever having been sexually assaulted, despite having made rape allegations against the ranch owner. Besides, Ashley Harris is alleged to be involved in multiple other cases in which she falsely claims to be the victim.
8. The cabin in which Ashley Harris claimed to have been held against her will is a top deck with no walls and no door. That means she was free to leave at any time.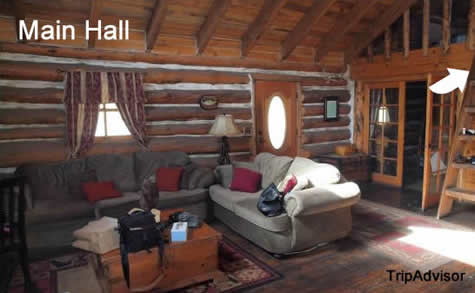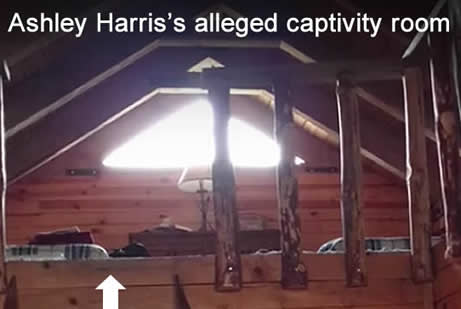 However, these exculpatory shreds of evidence were completely ignored by the Mariposa County Prosecutor. He also ignored the advice of the District Attorneys who reviewed and denounced the case against the innocent man. He proceeded with the case anyway, dragging it for over a year, based on the fictim's (false victim's) proven lies. Ladies and Gentlemen we're dealing with a seasoned fibster assisted by a feminism-invigorated injustice system along with opportunistic and corrupt officials. And it gets more interesting…
July 17, 2017. … the accused man's 437-acre ranch was placed under receivership for minor/insignificant maintenance issues which the authorities called "code violations". That means his newfound freedom on bail would only allow him to grab a few most important handy things from his own home and then look for a street corner to join the homeless, while the authorities guarding his home would live comfortably in the "health code violation" cabin with their kids. Not only that, the California Receivership Group (CRG) would not only determine, at their own discretion, the cost of maintenance and submit bills to the court, but also the cost of arm-guarding the ranch, all to be eventually factored in the value of the property.
August 14, 2017. After almost two years of the falsely accused ranch owner surviving a month in jail, almost a million dollars in cost of legal fees and related expenses, hundreds of thousands of dollars in lost revenue from his business while in jail, extensively tarnished reputation as an accused and investigated rapist, as well as homelessness due to eviction from his own property; the rape charges against him were eventually dropped by the Mariposa County District Attorney, due to Ashley Harris's aggravated perjury and total lack of credibility. If you still wonder what took them so long, then you might want to read NCFM's investigation report here.
September 18, 2018. The falsely accused ranch owner had enough and filed a lawsuit against Ashley Harris, and several named Mariposa County officials for Malicious Prosecution. However, since Ashley Harris was out of contact, it took the work of a private investigator to find and finally serve her with the court papers on October 20, 2018. In retaliation, however, fictim Ashley K. Harris filed for a Restraining Order against the falsely accused ranch owner, citing that she had been stalked and harassed by him.
July 26, 2019. After a full day trial, Ashley Harris's restraining order was not only denied but she was deemed by a judge as not credible, in reference to her fake rape case. "I have heard cases from counsel that these cases have to stop, and these false allegations are happening," said the presiding judge. "Ms. Harris lacked credibility." "Her testimony just could not hold water." "Any reasonably person could not conclude that her story was straight." "There were many contradictions in her spoken testimony here in court today and documented testimony under penalty of perjury when she was being deposed." "She was an evasive witness." "She would not answer questions directly." "She did not appear to be a witness who was willing to exchange truthful information." "Her story does not match up," the judge added. See the court document here, one small victory for the falsely accused male but by no means sufficient.
June 04, 2020. A female judge ruled that Ashley Harris pay just $2,000 in attorney fees to the falsely accused man, which is the estimated minimum in attorney fees and only a small fraction of what he has lost fighting for his innocence. However, the moral victory would have been significant in this case, except, the false accuser herself would not let that happen.
Attorney of Ashley Harris files a petition in the California Superior Court objecting the judge's decision that she pay the falsely accused man $2,000. Even though she was required to pay only $100 per month until the amount was reached, Ashley Harris cites her financial disabilities as compared to the falsely accused man, as the reasoning behind her objection.
June 25, 2020. Once again, Ashley Harris's stubbornness is met with the court's unwillingness to be manipulated by her. "All objections are overruled and request for a different order is denied," according to the court document here.
July 11, 2020. As justice began to head in the right direction for the falsely accused man, the saddest thing happens. His attorney from the National Coalition for Men (NCFM) was reportedly gunned down in front of his Cedarpines Park home in Twin Peaks. San Bernardino County Homicide Detectives say they are investigating the murder of the 52-year-old who represented the falsely accused man to cross-examine fictim Ashley K. Harris in court here and score a number of legal victories for him. It is unclear who and what is behind the assassination. However, given the alleged extent of corruption among Cali County officials, it is not far-fetched to suspect the hit was related to his legal work.
The Attorney's death may deal a blow to the case but does not mark the end of it. The falsely accused ranch owner is still in the fight for his property against allegedly corrupt county officials. We stumbled upon a GoFundMe page here for anyone who cares to support this one man who has taken a stand against corruption. If you care for justice, slam/shame this fictim on this page so we can send a letter to the Mariposa County Prosecutor to do the right thing and charge 34-year-old Ashley K. Harris with Filing a False Police Report and Perjury.
---
Mariposa Burning – The Jerry Cox Story
November 7, 2020 4:58 am by ejfanetwork
MARIPOSA, CA – 46-year-old Jerry Cox is not much for superstition, in fact he comes across as the matter-of-fact kind who probably doesn't pay much attention to the myths related to number 13. But looking back on that November afternoon in 2015 he may have a different take on Friday the 13th.
Jerry Cox speaks with Merced Gateway News about the fabricated accusations against him.
Residents in the Merced and Mariposa county areas may remember the case regarding a Mariposa man who allegedly kidnapped, raped and held a woman against her will after meeting her on the dating website Farmersonly.com. The Mariposa County District Attorney, Thomas K. Cooke, accused Cox, the owner and operator of the Bison Ranch located at 6071 CYA Camp Road in Mariposa County, of 15 felony charges, which carried three life sentences in prison if he were convicted on all counts. Mr. Cox spent over a month in jail before coming up with a $500,000 bond.
The case revolved around a woman named Ashley Harris and a county local named Darlene Windham who allegedly, after both were asked to leave the ranch by Cox in the late morning on November 13, 2015, went to a local bar where they drank three beers before going to the CHP office on Highway 49 North in Mariposa. Once there Ashley relayed to the CHP Officer Brian Casey that she had been raped and held captive by Cox whom she stated she recently met on Farmersonly.com, a dating website for farmers. Ashley also stated that she lived outside the county and was invited to the ranch by Cox and had only known him a few days.
CHP Officer Brian Casey on the right.
But Officer Casey, a state employee, knew something was just not adding up. Not only did the woman have what appeared to be makeup above her left eye and was made to look like a bruise, but when asked if she'd been drinking to which she replied, "no," Darlene, who was nearby and overheard her answer, corrected Ashley's statement to Officer Casey. As she was questioned further Officer Casey began to suspect Harris's statements might not be truthful. Officer Casey then asked to look at her cell phone, which Harris complied, and after reading her text message communications between Cox and herself, Officer Casey's investigation quickly revealed that the victim may not have been a victim at all. But a heart broken lover who was a bit intoxicated, angry and bent on revenge.
Ashley K. Harris posing with a German shepherd. Unknown if it is hers.
There was no mention of her kidnapping or rape, but many text messages asking when Cox expected to return home during the times she was allegedly being raped and or held captive. She also wrote that she wanted Cox to come back to the ranch and that she missed him.
Since the allegations had occurred in the county of Mariposa and not on state property, the Mariposa County Sheriff's Office had been called by the CHP to which Mariposa County Sheriff's Deputy Atkinson was dispatched and arrived at the CHP location at 3:45 pm. Officer Casey debriefed Deputy Atkinson upon his arrival then escorted Deputy Atkinson and the alleged victim, Ashley Harris, to a private "beak room," where Harris stated that on the evening of Wednesday, November 11th, 2015, Cox had forcibly raped her at his home and had held her captive since she'd escaped that afternoon, Friday the thirteenth.
Deputy Atkinson on the right accepting a check for the Sheriff's non-profit group.
Deputy Atkinson described Ashley as being "visibly emotional with noticeably shaking hands." Deputy Atkinson then decides that the interview should continue in a more controlled location due to confidentiality reasons and asks Harris if she would leave from the CHP Office and follow him to the Sheriff's Office to which Harris said she would. It is unknown if the Deputy had been informed by CHP Officer Casey during his debrief that Harris had admitted to drinking at least three beers with her friend Darlene just prior to arriving at the CHP Office. Or why he would allow an alleged victim of forced rape to go anywhere else but to the hospital first before going to a Sheriff's Office where they take rapists.
Once they arrive at the Sheriff's Office, Ashley is then escorted to an interview room where Detective Wesley Smith interviewed her in the presence of a victim's advocate and Deputy Atkinson. Harris was also asked if she would feel more comfortable detailing the rape to a female Deputy, which Harris declined. Smith had been with the Mariposa County Sheriff's Officer since 2009 and had investigated many types of crimes including sex crimes.
THEY MET ON FARMERSONLY.COM
Porch view from one of the many buildings visitors to Bison Creek Ranch could experience.
Harris, who was know on the Farmersonly.com dating website as "Farmgirl061985", stated that she met Cox , who was known as "Bronxious", on the website approximately 3 weeks earlier and after sometime of texting, emails and phone calls, they made arrangements to have Harris visit Cox's ranch. She went on detail how she drank two beers and went to bed in the room provided for her. After sometime she alleged Cox entered her room, grabbed her by her throat with one hand and old her to "shut the fuck up", even allegedly placing a pillow over her face and slapping her repeatedly before violently raping her.
On November 13, 2015, Cox, thrown in jail on a $500,000 bond and accused of 15 felonies. His name and mug shot were plastered all over the media who were hungry for a story about a crazy white farmer building a cave and kidnapping women to rape them repeatedly.
"We caught the cops acting in bad faith withholding and destroying exculpatory evidence," Jerry said in a phone interview with me last week. "This entire nightmare has destroyed my livelihood and my name. I've been getting death threats ever since this fake rape case began two years ago. I've lost everything."
Everything to Cox, who has an MBA in Business and decided to start his first enterprise in Mariposa County where he purchased 200 acre's of land and named it "Bison Creek Ranch", means his land, personal and business property as well as his animals.
But as crazy as that sounds, the fact that in Mariposa someone accused of committing a crime without any proof can be locked up and their business shutdown should send shockwaves throughout America. That is completely counter to our justice system and yet in Mariposa County, CA, like Merced County, CA there is no longer a functioning justice system, but a cancer of corruption. One that is well documented yet no one seems to care.
MARIPOSA SHERIFF'S DEPT.'S LONG HISTORY OF DRUGS, MURDER AND GUN RUNNING SINCE THE 1980'S
In Mariposa County, CA corruption is just a way of life as documented by the ABC 20/20 episode, which aired in 1990. It told of drugs being flown into the Mariposa Airport under the supervision of the Mariposa County Sheriff Paul Paige and three deputies who put their very own lives on the line for Mariposa County and the State of California only to find themselves betrayed and one of them murdered.
An investigative journalist looked into Mariposa and found it's Sheriff murdered one of his own deputies.
Deputy Van Meter was assigned to the California State Abatement Program and during his investigations with local informants learned that the drugs were actually coming from his own department. Deputy Van Meter is said to have photographed and kept a journal documenting drug activity by Mariposa County Sheriff's Deputies at Lake McClure. The evidence included harvesting and eradicating marijuana fields in Yosemite National Park and nearby counties as well as evidence of planes flying into the Mariposa Airport unloading packing of cocaine, meth and marijuana and were being stored in abandoned cars and towed out of town by a local wrecker under contract with the sheriff's department. It was also being distributed at a hidden cove at Lake McClure.
Deputy Van Meter took that evidence directly to the California Attorney General's Office and upon returning home received a phone call from Sheriff Paige who was said to be livid. The California Attorney General's Office had called Sheriff Paige and told him what Deputy Van Meter had done and so the deputy knew he had only one opportunity, one chance to correct the scales of justice which were heavily tilting toward massive corruption. He went to Deputy Rod Sinclaire's boathouse on Lake McClure to arrest them all himself. He knew he would have the people of Mariposa, the State of California and the people of our great nation stand with blind justice.
Instead, Mariposa County Sheriff's Deputy Ron Van Meter never returned home that night to his wife. His torso was found at the bottom of Lake McClure in September 1990, over 10 years after he disappeared. No one cared that Van Meter took photographic evidence of the massive grow operations in the hills of Mariposa or the cocaine, meth and prescription narcotics being flown in and out of the Mariposa Airport. Not even the Attorney General at the time cared about a law enforcement officer doing the right thing. Instead California Attorney General conspired with the Mariposa County Sheriff at the time called the Mariposa County Sheriff to tell him what one of his deputies had done and left it up to the local Sheriff in Mariposa to deal with.
Their investigation led them straight to the doorstep of MCA Corporation (Music Corporation of America), parent company to Curry Company, the largest concessionaire in Yosemite National Park. A major drug network had surfaced in the park, compelling one park ranger, Paul Berkowitz, to go before the House Interior Subcommittee on National Parks and Recreation to testify about drug distribution by Curry Company officials.
Sgt. Sinclaire, a heavy narcotics user and one of several Mariposa County Deputies at the time known for drug dealing and their own personal use, would eventually find himself with automatic weapons, explosives, and three dead secret service agents on March 5, 1983. Their names were George P. LaBarge, 41, Donald Robinson, 38, and Donald A. Bejcek, 29. But did or does anyone care?
Mariposa County Sheriff's Deputy Ron Van Meter's torso was found at the bottom of Lake McClure in September 1990, over 10 years after he disappeared. No one cared that Van Meter took photographic evidence of the massive grow operations in the hills of Mariposa or the cocaine, meth and prescription narcotics being flown in and out of the Mariposa Airport. Not even the Attorney General at the time cared about a law enforcement officer doing the right thing. Instead California Attorney General conspired with the Mariposa County Sheriff at the time called the Mariposa County Sheriff to tell him what one of his deputies had done and left it up to the local Sheriff in Mariposa to deal with.
And so Van Meter was murdered showing the residents of Mariposa that they better keep quiet about what they see, hear and smell. Otherwise they could end up like Van Meter.
---
NCFM Investigates
Why Mariposa County Supported False Accuser Ashley Harris To Prosecute Rancher Jerry Cox and Force His Land Into Receivership
Anatomy of A Fake Rape Case
October 11, 2017
By NCFM
In 2001, NCFM Member Jerry Cox purchased over 400 acres in Mariposa County, California. His dream came with undeveloped land, miles of scrub brush, and an inoperative 1940 Caterpillar D-6 bulldozer.It took him three months to fix the D-6 and 15 more years to improve roads, build a house, several cabins, a machine shop, barn and other outbuildings. He accumulated a small herd of horses, 35 bison, a horse trailer, several pickups, a flat bed with a Cummings diesel tractor, front end-loader, machine equipment and tens of thousands of dollars in related tools and parts.
He developed the relatively worthless and unwanted property into a productive and profitable ranch and agriculture-tourism business once worth several million dollars.
Arrested in 2015, he had to post a $500, 000 bond to get out of jail. His business destroyed, he paid another half million dollars in legal fees, is broke, living with friends a week here and a week there, and he may owe receivership fees exceeding $200,000, as well as climbing legal costs, all because of false accusations by Ashley K. Harris of Bakersfield, California.
Harris and Cox met on a dating website about a month or so before the allegations. Soon thereafter, in November 2015, Harris alleged Jerry held her captive, sodomized her and raped her over three days in one of Jerry's cabins.
Fortunately, Harris' jumble of lies quickly unraveled. The Sheriff's Department and District Attorney's Office early on had evidence the allegations were false. This evidence should have exonerated Mr. Cox right away. Instead, the County maliciously prosecuted the case for two years based on Harris' lies.
While out on bail and persecuted for crimes he did not commit, his property went into "receivership," ostensibly for over 100 questionable building code violations. In other words, the County seized his property and prohibited Jerry by Court order from staying in his house, using his equipment, caring for livestock that remained, and otherwise enjoying the property he spent over a decade developing.
The code violations were minor, like not enough fire extinguishers or extension cords not properly secured. Some of the violations were for legal deficiencies grandfathered to the property. We know of no other situation similar to this one. Moreover, the County is dragging Jerry back to court for misdemeanor theft of electricity over a broken meter owned by Pacific Gas & Electric (PG&E), even though he has documentation showing he reported the broken meter twice to PG&E.
We believe, the stacking of fake rape charges, attempts to raise bail to $2,000,000, and receivership were retaliatory measures even though the Sheriff and DA knew Harris's accusations were false; and, that they were aware evidence was overlooked, ignored or otherwise destroyed or mishandled. So might be the PG&E charge above.
After released on bail, Jerry was given a few hours to rescue a few personal belongings and documents. Later, security guards broke into buildings, destroyed property and used Mr. Cox's vehicles for personal pleasure including allowing their children to use Mr. Cox's four-wheeler.
Mr. Cox hired San Francisco attorneys Tony Serra and Brian Ford who discovered that Sheriff's Investigators did not adequately scrutinize Harris's fanciful and ever changing stories of abduction and sexual abuse. In fact, the apparent disregard by law enforcement of her lies appalled Mr. Cox's legal team. Aside from which, they discovered, the Sheriff's department failed to immediately seize Harris' cellphone in order to timely retrieve messages which would have quickly revealed her basket of lies.
During the time, Harris alleged that she was a captive, sodomized and raped, phone records revealed she had sent or received over 160 text messages, many of them to and from Mr. Cox; even though she maintained she had no cell reception or service. Not one of those texts mentions being a captive or sexually assaulted.
In fact, there was a working telephone in the cabin. Several other people staying there told investigators nothing happened. Photographs taken by the Sheriff's Department show the cabin has no outside door locks, boarded-up window or doors. She was free to leave when she wished. In fact, witnesses told Sheriff' Investigators that Harris was at a local restaurant, eating and drinking a few hours before she made the allegations!
The almost pornographic photo below, which is a defense exhibit and now public record, was texted by the alleged "rape victim" to Mr. Cox with the message, "I'm horny."
Moreover, Harris is portrayed on a website, as a serial false accuser and "Grifter-Expert Con Artist.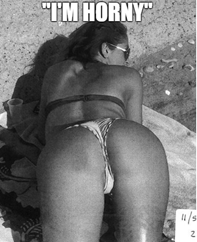 Remarkably, Mariposa County has a history of corruption. In 1991, ABC News 20/20 did an investigation report on the Sheriff's Department. A sheriff's deputy who went to the Attorney General' Office to expose a drug and pornography ring operating within the department, soon after disappeared at a local lake and was presumed drowned. Ten years later, that all changed when his body finally surfaced which was wrapped in netting and weighted down with a fire extinguisher.
Considering Mr. Cox' several million dollars in confiscated property and the inordinate length of time it took to dismiss his felony charges which were known to be false by law enforcement, we wonder what sort of corruption might still exist. We know at least one federal agent is interested too.
Finally, District Attorney Cooke filed for dismissal of all charges on August 14, 2017 after learning Harris perjured herself in a worker compensation case, as if the lack of evidence against Mr. Cox, Harris's jumble of lies and total lack of credibility were insufficient (see the video below). Criminal charges were dismissed within days of the County filing the receivership, which reinforces the notion of corruption.
We sent DA Cooke a letter asking for the investigation and prosecution of Harris, which we know he received on September 29, 2017.
In the letter, we also asked that his office coordinate a joint investigation with the California Attorney General for California False Claims Act violations. Harris's false accusations involved at least two dozen government employees including prosecutors, investigators, a judge, sheriff deputies, forensic examiners, security guards and many others. We guesstimate the costs of pursuing Harris's false accusations to exceed a million dollars. Someone needs to pay for that besides taxpayers.
Worse, such poor use of precious resources deprives real sexual assault victims needed services. Maybe Mariposa County residents could use a new park, renovate a school, fund after-school programs, provide shelters for homeless Veterans, or fix their roads?
Ashley K. Harris and everyone else involved in her lies, covering them up or otherwise mishandling them, must be held accountable, criminally and civilly. This is an egregious situation.
Worse, perhaps, it is entirely possible that others falsely accused without sufficient resources, have been railroaded into convictions or coerced to plead to lesser charges for no reason other than an accusation by a woman. Mariposa County, like other counties, may receive substantial federal bounties (funds) on the heads of convicted male defendants, innocent or not, through the Violence Against Women Act or other legislation.
If you know of, or know anyone who knows of, anyone involved in this matter who may have information to help Jerry's situation please let us know, call 619-231-1909. You may leave a confidential message if you wish.
---
---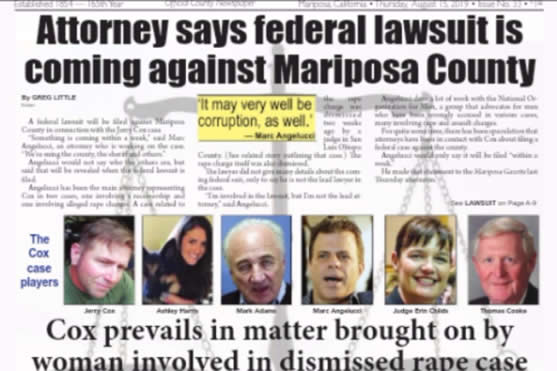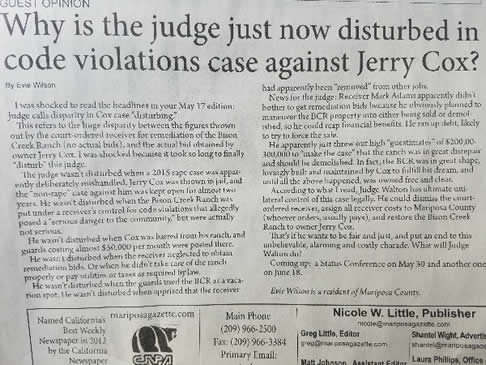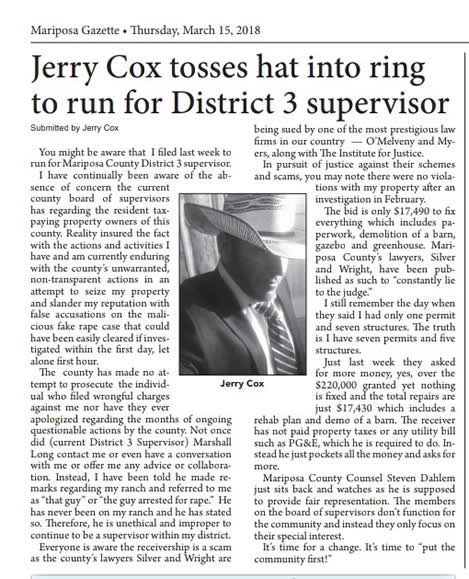 ---
"Mariposa County Corrupt" Con Artists – Fake Rape, Steal Home, and Business!