Darrell Steven Steinberg #114583
License Status: Active
Address: City of Sacramento – Office of the Mayor, 915 I St Fl 5, Sacramento, CA 95814-2622
Phone: 916-808-5882
License Status, Disciplinary and Administrative History
All changes of license status due to nondisciplinary administrative matters and disciplinary actions.
Date License Status Discipline Administrative Action
Darrel Steven Steinberg wrote illegal SBX211 in 2009 making it legal for California Judges to accept bribes as well retroactively
Present Active
12/3/1984 Admitted to the State Bar of California
---
Darrell Steinberg is Mayor of Sacramento, California. Steinberg took office December 13, 2016. Steinberg's term ends December 15, 2024.
Darrell Steinberg ran for re-election as Mayor of Sacramento, California. Darrell Steinberg won the general election March 3, 2020.
Before becoming mayor, Darrell Steinberg served as a Democrat for California State Senate, representing District 6, 2006 to 2014. He served as president pro tempore from 2008 to 2014 in the Senate. Darrell Steinberg served as a member of California State Assembly, 1998 to 2004.
As a member of the California State Legislature, Darrell Steinberg authored Proposition 63, Mental Health Services Act, which voters approved in 2004, imposed 1 percent income tax on personal income in excess of $1 million funding California Department of Mental Health's programs
U.S. Senate
See: United States Senate election California, 2016
Darrell Steinberg initially considered a candidate in the 2016 election for U.S. Senate, representing California. However, he endorsed Kamala Harris February 5, 2015.
---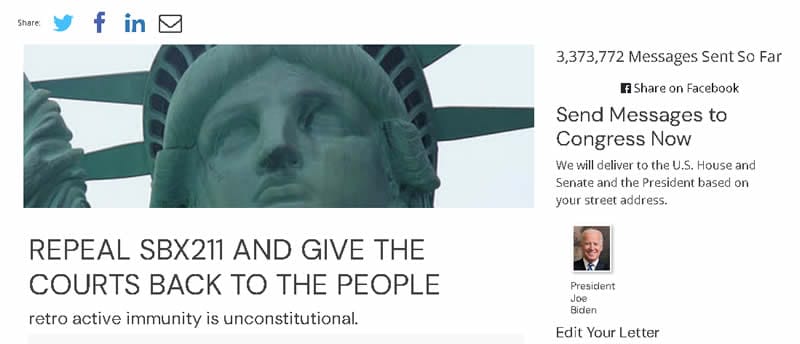 REPEAL SBX211 AND GIVE THE COURTS BACK TO THE PEOPLE
Retro active immunity is unconstitutional
SECTION FROM SBX211
This bill would provide that no governmental entity, or officer or employee of a governmental entity, shall incur any liability or be subject to prosecution or disciplinary action because of benefits provided to a judge under the official action of a governmental entity prior to the effective date of this bill on the ground that those benefits were not authorized under law.
HISTORY OF RETRO ACTIVE IMMUNITY IN THE UNITED STATES
1. given for unconstitutional use of torture
2. given for illegal merger of banks (we can see the effects of that now)
3. given to telecom company for illegal wire taps. (Fisa bill that led to the patriot act)
4. given to Judges for taking bribes. (SBX211)
SBX211 Retro Active Immunity given to California judges for openly taking bribes. Judges are employees of the State they receive their pay and benefits from the State. The Los Angeles Superior court judges are currently receiving an additional $57.688,00 from the county of Los Angeles. There is no bigger user of the court than L.A. County.(A party to the case and has a financial interest in most cases in the courts) Those payments were found to be unconstitutional / illegal in Sturgeon vs Los Angeles County. After that decision, the judges paid a lobbyist to pass SBX211 (RETRO ACTIVE IMMUNITY)
SBX211 does not restore due process
SBX211 violates Article 1 section 9
SBX211 violates the 14th amendment (no equal protections)
SBX211 violate checks and balances between legislative and Judicial powers.
Judges do not disclose the county payments at the onset of any trial where the county is either a party to the case or has a financial interest. (Judges violate Judicial codes of ethics)
Judges refuse to recuse themselves when requested under CCP170
Judges find themselves unbiased and then file an order striking the statement.
Not only do judges get paid a state salary of $178,789.00 a year with medical and retirement benefits up to 75% of their salary, with the county payments the Los Angeles Superior court judges are the highest paid judges in the Nation. Los Angeles County takes taxpayer money and then gives the judges that money to only have the judges rule against the taxpayer in favor of L.A. County or the County's interest. THE BRIBES WORK.
SEE DR. Richard I. Fine's AMEND SBX 2 11