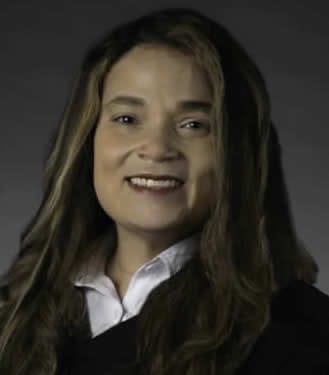 Corrupt Cook County Judge Jackie Portman Brown exposed and caught red handed given a slap on the wrist (reassigned) instead of long prison term for dishonorable act
Three weeks after Election Day, final tallies show that Cook County Circuit Judge Jackie Portman-Brown lost her retention bid by less than 12,000 votes, while Judge John Mahoney III held onto his seat by about 2,100 votes.
Officials in Chicago and suburban Cook County submitted Tuesday their final counts to the Illinois State Board of Elections, which will then certify the results Dec. 4.
Judges up for retention need 60% "yes" votes to keep their seats. This election marked the second in a row in which voters tossed a judge after not having done so for nearly three decades.
The current judicial term ends Dec. 7, after which the Illinois Supreme Court will fill Portman-Brown's vacant seat. That judge can then run in the next primary election in 2022 to stay on the bench if they so choose.
Portman-Brown has been a judge since 2008. For years, she headed the HOPE court, a high-profile experimental program that aimed to keep defendants who struggled to comply with probation out of prison. The state cut funding for the court in 2018 following critical internal surveys and outside reviews by researchers and advocates that found the program rife with problems, some springing from Portman-Brown's leadership. In one review by the Chicago Appleseed Fund for Justice, court staff portrayed Portman-Brown as a vindictive bully who would at times punish offenders to spite attorneys with whom she was at odds.
Portman-Brown also raised eyebrows with her courtroom antics, which included ringing a cowbell once a defendant had paid off their fines and jiggling her keys at defendants to signify her ability to lock them up. She once called a defendant a "f—-r" after he used similar language to express his frustration with a ruling, the Chicago Sun-Times reported.
"I am not your typical judge," Portman-Brown said as CBS cameras rolled in her courtroom in 2016. "I'm like Santa. I've got a list, I check it twice, I know who's naughty, I know who's nice."
"If you remain in violation of your probation from this day forward," Portman-Brown told a defendant on camera, "I will lock you up. I will lock you up!"
In February, Cook County Chief Judge Timothy Evans reassigned Portman-Brown to administrative duty — also known as "judge jail" — after a video showed her locking up a child relative in a holding cell behind her courtroom for several minutes.
Portman-Brown will join former Judge Matthew Coghlan as the only two judges to lose a retention bid since 1990. Former Cook County Judge Mauricio Araujo also garnered less than 60% "yes" votes in this month's election, but he had already retired in October following a disciplinary hearing that substantiated allegations that he had sexually harassed several women while on the job.
A self-proclaimed "lock-'em-up" Cook County judge has been placed on "administrative duty," after surveillance video surfaced of her putting a child in a courtroom lock-up reserved for adults.
The child, whose face is obscured in the Feb. 19 video, spent about 10 minutes locked up behind a wire-mesh door in a cell that appears to be otherwise empty. The video was provided to the Chicago Sun-Times by the Cook County Sheriff's Office.
Cook County Judge Jackie Portman-Brown, the woman seen putting the child in the lock-up, could not be reached for comment.
"On February 26, Chief Judge Timothy C. Evans directed Criminal Division Presiding Judge LeRoy K. Martin Jr. to assign Circuit Judge Jackie Marie Portman-Brown to administrative duty, pending a meeting of the Executive Committee of the Circuit Court of Cook County on March 4," according to a statement from Pat Milhizer, a spokesman for Evans.
Milhizer did not respond to questions about the reason for Portman-Brown's re-assignment.
The video shows Portman-Brown escorting the child into the lock-up, while a male Cook County sheriff's deputy briefly looks on. The judge then leaves. A female sheriff's deputy is seen locking the wire-mesh door to the cell and then standing in front of the door, apparently talking to the child for much of her 10-minute stay. There is no audio with the video. At some point, another woman arrives, dressed in civilian clothing, and then leaves. The female deputy then unlocks the door and escorts the child out of the cell.
"The Cook County sheriff's office is conducting an internal investigation into the incident to determine whether all policies and procedures were followed by the deputies. Both deputies have been de-deputized and assigned to administrative duties pending the outcome of the investigation. We ask that any further questions about the incident be directed to Judge Portman and Chief Judge Timothy Evans," according to a statement from the sheriff's office.
Portman-Brown has earned a reputation as a highly unconventional judge. The items on her bench have included a cowbell, which she rattles when a defendant is finishing paying restitution, according to a 2016 profile in the Chicago Reader.
At one point in the profile, Portman-Brown is quoted as saying from the bench: "When you mess up, I'm like the Incredible Hulk: You do not wanna see me angry. When I get angry, I lock people up. I'm known as the lock-'em-up judge."
Two Cook County circuit judges who are on administrative duty, barred from performing nearly all judicial functions because they're facing disciplinary proceedings, would like something from voters come November.
Another six years on the bench.
Judges Mauricio Araujo and Jackie Portman-Brown have been removed from their courtrooms and placed for now in what those on the bench refer to among themselves as "judge jail."
Araujo was placed on leave in 2018, after an assistant Cook County state's attorney accused him of sexual harassment. Two other women have since come forward saying he harassed them, too.
Portman-Brown has been on administrative duty since February, after a video showed her having a child locked up in the holding cell behind her courtroom.
Both continue to receive their full $204,000 salaries, plus benefits.
And both, facing the end of their six-year terms, have filed for retention in the Nov. 3 election.
That means that, as sitting judges, they need the approval of at least 60 percent of those who cast ballots in Cook County to remain on the bench.
Because judges seldom have much name recognition and it's difficult for voters to rate their performance, judicial seats often are the first offices that people skip over in voting. As a result, it's rare for a Cook County judge to lose a bid for retention.
"With that six-year history comes whatever he or she did to be placed on administrative duties," says Nyshana Sumner, president of the Cook County Bar Association. "I think it is something that voters should consider."
Araujo and Portman-Brown are the only two circuit judges currently on administrative duty, according to a spokeswoman for Chief Judge Timothy Evans.
Araujo: sexual harassment allegations and sketchy warrants
In June 2019, the Illinois Judicial Inquiry Board, which investigates allegations of judicial misconduct, filed a complaint against Araujo that says he has "engaged in a pattern of inappropriate and harassing behavior toward women" over several years.
Araujo now awaits a hearing before the Illinois Courts Commission to decide whether the allegations have merit and, if so, to impose sanctions as severe as removing him from the bench.
According to the complaint, twice in 2012 Araujo asked a female court reporter "how much money" she wanted to have sex with him while the two were alone in an elevator at the Domestic Violence Courthouse. She tried to defuse the situation, and he responded he was "not joking" and repeated the question, according to the complaint.
The woman filed for a transfer to another courthouse and, years later, after seeing news coverage of other harassment accusations against Araujo, filed a complaint.
In August 2016, Araujo tried to kiss a female Chicago cop when she came to his judicial chambers to get him to sign a search warrant, according to the complaint, which says, that, as they were leaving his office, he asked her to "touch my butt."
What started the Judicial Inquiry Board investigation and prompted Araujo's reassignment to administrative duty was an incident on Sept. 11, 2018. According to the complaint, the judge, speaking with a male prosecutor, called a female assistant state's attorney a "bitch" and suggested, "Maybe it's because I didn't have sex with her… or maybe it's because I did have sex with her."
Araujo also was called to testify in the federal corruption trial of two Chicago police officers who were convicted last year of stealing cash from drug dealers during illegal searches. Araujo approved nearly half the warrants for their gang crimes unit over a three-year period, the Chicago Sun-Times has reported. Araujo wasn't accused of misconduct in connection with the convicted officers.
Araujo did not respond to requests for comment.
Portman-Brown's administrative leave stemmed from a Feb. 19 video that showed her having a child locked up in an adult holding cell behind her courtroom.
Portman-Brown had the child — a relative, according to the chief judge's office — kept there for about 10 minutes.
Evans announced in early March that the incident had been referred to the Judicial Inquiry Board and said Portman-Brown was
Portman-Brown also faced criticism over her leadership of a now-shuttered intensive probation program called the HOPE court, which was supposed to provide close supervision and second chances to defendants rather than prison sentences. Lawyers, probation officers and participants involved in the program said Portman-Brown was "bullying" and "unpredictable," according to a 2018 investigation by Injustice Watch and City Bureau published by the Sun-Times.
The program lost its state funding in 2018 after two outside reviews found it failed to meet its goals and said Portman-Brown treated her staff and defendants abusively.
Also, while on the bench, she once called a defendant a "f—-r" after he used similar language to express his frustration with a ruling, the Sun-Times reported. "Them fightin' words. And if I was in my neighborhood over in Englewood, the robe would be off, and we'd be fightin,'" she said.
In a 2016 profile in the Chicago Reader, she embraced her tough-on-crime reputation, saying: "When you mess up, I'm like the Incredible Hulk. You do not wanna see me angry. When I get angry, I lock people up. I'm known as the lock-'em-up judge."
Hanah Jubeh, a consultant acting as a spokeswoman for the judge, noted that Portman-Brown was rated "qualified" by bar associations during her successful 2014 campaign for judge and has so far received a "qualified" rating from the Chicago Bar Association this election, according to an email.
"In reference to the reported incident, this was a personal family matter that became public," Jubeh said. "Unfortunately, the media's perception of the incident with the grandniece was not a true representation of the matter in question."
'Judge jail' sentence can last years
Even as Araujo and Portman-Brown are running to hold onto their judicial seats, they are barred from hearing cases.
Judges placed on administrative duty do legal research, conduct marriage ceremonies and review petitions for reduced filing fees for parties to cases who say they are indigent.
Evans can assign a judge to administrative duties only in rare circumstances: if they have been charged with a crime, face a formal disciplinary complaint or if there are allegations of improper behavior or mental or physical incompetence.
Administrative duty is "a punishment, a banishment," says former Cook County judge Richard Cooke, who was placed on administrative duty in 2017, shortly after winning election to the bench, for publicly refusing his initial assignment to traffic court.
"In my opinion, for lazy judges, it's the place to be: There's just nothing to do, no real responsibility," says Cooke, who spent three months in judge jail before resigning. "I thought that it was stealing Cook County taxpayer money, and I quit."
The aim of placing someone on administrative duty is to remove that judge from the courtroom until whatever issues are involved are resolved, says retired Lake County Circuit Judge Ray McKoski, now an adjunct professor teaching judicial ethics at UIC John Marshall Law School.
"The assignment is designed to protect confidence in the judiciary," McKoski says.
Frank Calabrese, a judicial political consultant, says judges on administrative duty are "performing functions that any law clerk or paralegal could perform" — while "taking in a quarter-million with benefits."
Administrative duty can last for years, especially if it's because of a pending disciplinary investigation. Judicial Inquiry Board investigations are slow and rarely end in public discipline, a 2015 Injustice Watch investigation found.
And the harshest disciplinary action rarely is meted out. According to an Illinois Judicial Inquiry Board report last year, the Illinois Courts Commission has removed seven judges and suspended 19 in 50 years.
NEWS STORIES ABOUT JUDGE JACKIE PORTMAN BROWN
Cook County judge put on "administrative duty," after surveillance video shows her locking up a child
Final Election Results Show One Cook County Judge Lost Her Seat, Others Hold On By A Thread
Two Cook County judges in 'judge jail' want 6 more years on the bench
Chicago judge is removed from the bench for locking a CHILD in a courthouse jail cell to 'teach her a lesson for behaving badly'
Judge reassigned indefinitely for putting child in courtroom holding cell: video
Cook County Judge Reassigned After Video Shows Her Putting Girl In Lockup
Judge who locked up young relative referred to state judicial board
Outrage as judge locks child in JAIL CELL to teach her a lesson for misbehaving
Videos Exposing yet another dishonorable low life Judge, Cook County Chicago Illinois Judge Jackie Portman Brown
Cook County judge removed from bench for allegedly locking up child

Surveillance video shows Cook County judge locking up child

Meet Cook County's Tough Love Judge

Cook County judge on 'administrative duty' after surveillance video shows her locking up child

Cook County judge removed from bench for allegedly locking up child

---
---