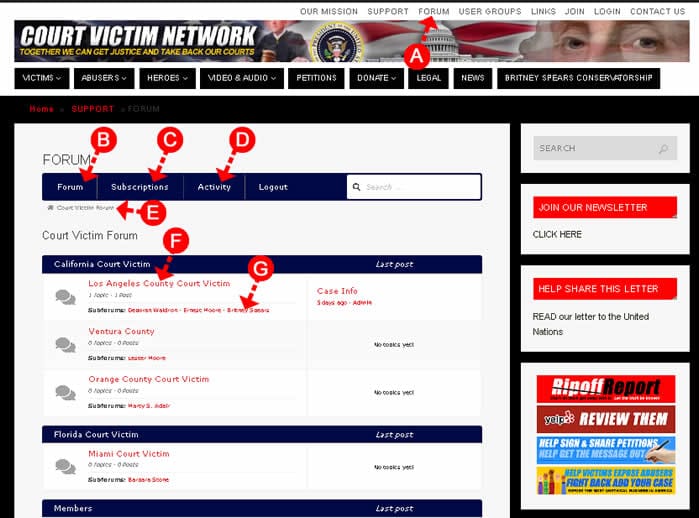 FORUM BASICS
Join the forum, it's not just for chatting but users can post photos, documents etc, and all members of a
particular group can comment and partake. Ensure you topic is "subscribed" which means when there are
changes by anyone in the group you'll get a note with a link to come straight back to the comment.
Note you must be logged on and be in the approved group to see or access some private groups.
If you go to the forum and it's empty this is why.
A. Find our FORUM by clicking the "FORUM" text link top right of the courtvictim.com page
B. Once in the FORUM you can always get back to the start page of the forum by clicking the Forum text top left.
C. You can see what topics you're subscribed to by clicking on Subscriptions.
D. Activity means see a page with what's going on and what you've read and have not read
E. Breadcrumbs show you exactly where you are and allow you to go backwards from where you came from.
the Home ICON takes you to the HOME page Court Victim ForumMembers: Current Legal Action List Jack Jones
F/G. Look for RED links to go to topics or info.

HOW THE FORUM IS ORGANIZED
GENERAL (For everyone with general info)
COURT DIVISIONS:
APPELLATE
CIVIL
CRIMINAL
FAMILY
JUVENILE
PROBATE
ORGANIZATIONS
If you would like deeper, more access once you use the (one click for FACEBOOK, TWITTER, GMAIL Users) please make sure to add your email and name.
You can register with ONE of the following options:
1. Enter an email and username
or
1. Click on Facebook, Google (Gmail) or Twitter option
Once you have access to your profile you can add any missing info,
Facebook, Twitter or Google users may need to add email and full name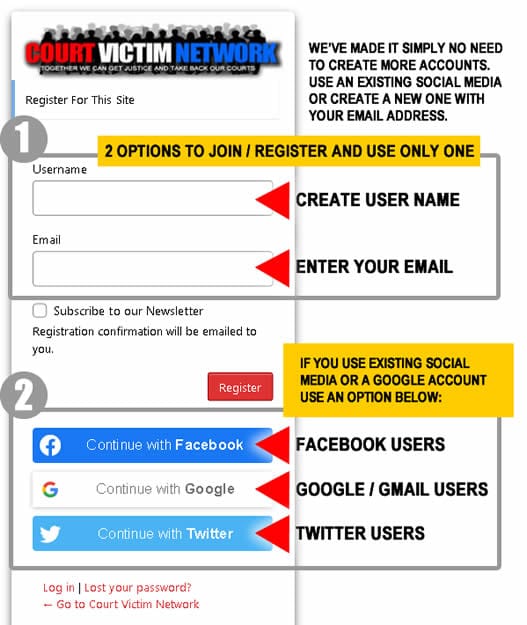 ---