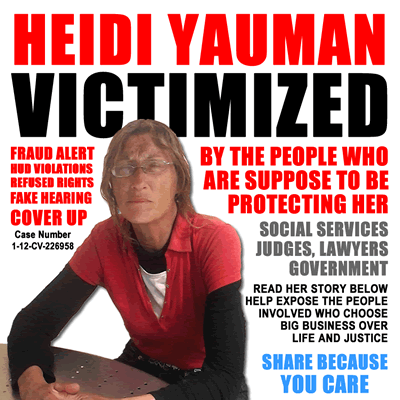 Heidi Yauman
Victimized by Judge Socrates Peter Manoukian
Case 1-12-CV226958
Court case LINK
ELAINE BOUCHARD TOOK ADVANTAGE OF HEIDI YAUMAN, A TRAUMATIC BRAIN INJURY VICTIM WHO EMERGED FROM A COMA AFTER RECOVERING FROM A CAR ACCIDENT. SHE DEFRAUDED HEIDI YAUMAN OF HER HOME, PERSONAL PROPERTY AND MONEY FROM HER ESTATE. SHE DID THIS UNDER KNOWLEDGE AND SUPERVISION OF EAH HOUSING CEO: MARY MURTAGH. A FRAUDULENT COURT RECORD WAS CREATED IN SANTA CLARA COUNTY SUPERIOR COURT: (CASE: 1-12-CV-226958) POWER OF ATTORNEY THROUGH CONSERVATORSHIP WAS USED TO OVERRIDE / SHUT DOWN HEIDI YAUMAN'S HUD COMPLAINT (INQUIRY: 345092) AND EVIDENCE CODE 953(B) WAS USED TO WITHHOLD HEIDI YAUMAN'S ATTORNEY RECORDS FROM HER.
IF ELAINE BOUCHARD TREATED HEIDI YAUMAN AS SHE DID, THEN WHAT IS PREVENTING HER FROM DEFRAUDING SENIORS AT 23800 INGOMAR GRADE, LOS BABNOS, CA OR OTHERS IN LOS BANOS MERCED COUNTY, CALIFORNIA. PLEASE PROTECT THE SAFETY OF SENIORS AND DISABLED IN YOUR AREA. ALERT OTHERS ON THIS LIST AND WARN THEM ABOUT ELAINE BOUCHARD AND EAH HOUSING VIOLENCE, ELDER ABUSE AND EVICTION FRAUD.
---