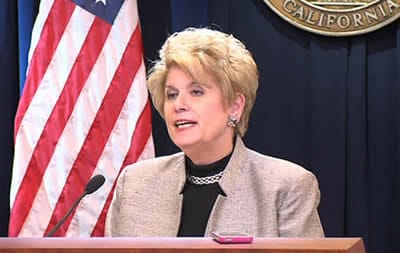 Bonnie Michelle Dumanis #74343
License Status: Inactive
Address: 302 Washington St, No 336, San Diego, CA 92103-2110
County: San Diego CountyPhone Number: (619) 823-1055
Email: bonniedumanis@gmail.com
Law School: Western State Univ; CA
Bonnie Michelle Dumanis was the District Attorney of San Diego County, California. She held the office 2003 to 2017. Dumanis is a Republican, though the office she held was officially nonpartisan. She was the first openly gay or lesbian DA in the country. She was the first woman and the first Jewish District Attorney in San Diego.
In 2012, Dumanis ran for Mayor of San Diego, did not advance from the primary election, and later endorsed Carl DeMaio in the general election.
In 2006 she campaigned for California Proposition 83 (2006), California's version of Jessica's Law, which restricts where paroled sex offenders can live and requires them to wear tracking devices.
In January 2017 she said she would not run for a fifth term when her current term expires in 2018. In April 2017 she announced her intention to resign her office effective July 7. In 2018 she ran for a seat on the San Diego County Board of Supervisors, but lost to former state Assemblyman Nathan Fletcher.
NEWS STORIES
Dumanis Collected Pension and Salary in Last Two Years as DA
San Diego District Attorney Bonnie Dumanis To Step Down In July
San Diego Style Misogyny – Will Judge Hayes mirror Judge John Meyer and Police Chief Zimmerman
VIDEOS
Letter at center of Bonnie Dumanis flap surfaces

Former city attorney calls for investigation into District Attorney Bonnie Dumanis

Bonnie Dumanis announces resignation

Phone Call Raises Questions About DA Dumanis' Chula Vista Investigations

New Documents Show DA Dumanis And Then U.S. Attorney Duffy Texted And Talked About Azano Case

A Look at DA Bonnie Dumanis' Legacy

---