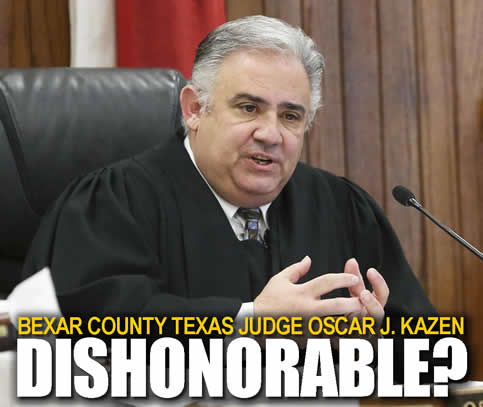 Judge Oscar J. Kazen
ABUSE VICTIMS:
Charlie Thrash
Associate Judge Texas Probate Court
Officer US Marine Corps
FORMER Attorney Private Practice
Education
JD Thurgood Marshall School of Law
BACHELOR'S DEGREE
University of Texas at Austin
THE JUDGE SAID WHAT?!
From Oscar Kazen demanding to know "is there a relationship between Mr Thrash and Mr Ross," to Tom Rickhoff offering glancing blows at Frost Bank for the guardianship – it's all the news you'll never read in any Hearst newspaper, much less the San Antonio Ex-News.
CHARLIE'S LETTERS TO JUDGE KAZEN
Read Charlie Thrash's letters to his neighbor & fellow Shavano Park resident Judge Oscar Kazen, who also happened to award Charlie in guardianship to the Mayor of Shavano Park's wife, Mary Werner, based upon Charlie's estranged grand-niece's recommendation, to whom the court had already awarded Charlie's estimated $3 Million in assets.
COURT ACTION
Court-filed papers, pertaining to Charlie Thrash's guardianship, including Charlie Thrash's guardianship Orders by Judge Oscar Kazen, awarding Charlie to Kazen's neighbor, political campaign financial supporter & wife of the Mayor, Mary Werner.
TEXAS ESTATES CODE
What does Section 1055.003 really say? Find out what lawyers representing Mary Werner & Tonya Barina don't want you to know. Judge for yourself how badly lawyers for Tonya Barina & Mary Werner mischaracterized and misrepresented these clear-cut statues to the Court, time and time again.
CHARLIE THRASH'S LEGAL WISHES
It's always important to read the wishes of the proposed ward, in this case Charlie Thrash, written in June 2016, a full 14+ months before a court-appointed doctor declared Charlie 100% incapacitated requiring a full guardianship
.
From Nov 15, 2018 onward, these properly stated, legal wishes of Charlie — to have Laura Martinez-Thrash, his common-law wife, be his agent and protector – have been ignored by both judges, first Tom Rickhoff and now, Oscar Kazen.
How could these letters be written by a man who is incompetent? Charlie's letters demonstrate his competence. Maybe that's why the judge – Oscar Kazen – has ignored them, as he has ignored Charlie – because Charlie & his letters don't conform to the Judge's desired narrative about Charlie's supposed incompetence. Charlie has never received a single response from Judge Kazen, nor an acknowledgement that he received these publicly-recorded documents.
LAURA'S EXONERATION
Documents and excerpts from court hearing transcripts that demonstrate Laura Martinez-Thrash, Charlie's common-law wife, was innocent and cleared of any allegations that she had converted Charlie's assets, or was abusing Charlie in any way. NONE of the allegations were proven, and Adult Protective Services (APS), called by Frost Bank to investigate, cleared Laura 100% of any allegations. All allegations were proven FALSE. Unfortunately, this did not stop the lawyers at Cavaretta, Katona, Leighner and Andersen from lying in court, and falsely claiming without any evidence that APS had found the allegations against Laura to be true.
---
---