Crandall, Charles Stevens
Judge 114409 San Luis Obispo
Admitted October 1984
VICTIMS REPORT:
"Judge Crandall has not complied with California ICWA laws, and has failed to keep the sibling bond in effect. This judge works hand in hand with cps and is involved in child trafficking."
It's been three years since I appeared before now-former SLO County Superior Court Judge Charles S. Crandall in a case that proved to be one of the most surrealistic moments of my life. Though I'm years removed from it and have grown a lot since that experience, I still face harassment over it and hold Crandall partially but personally responsible.
Because Crandall remains part of the faculty of San Luis Obispo College of Law, I have decided to not continue my pursuit of a career in law at that campus.
Crandall presided over a restraining order hearing where CalCoastNews co-founder Karen Velie falsely accused me of stalking, harassing and threatening her and her family. The trigger to the filing was me taking a photo of her at the courthouse and asking questions about her reporting. What was originally benign — albeit ignorant of local courthouse rules on photography — transformed into a harrowing tale of drama ripped from the pages of a John Grisham novel with Velie falsely accusing me of threatening her in the presence of law enforcement.
Though he found her "sole witness" couldn't recall the dramatic events she described and the "multiple police reports" she testified under oath to filing against me were nonexistent, Crandall only admonished me. And the admonishment itself has become a matter of folklore used by anonymous Facebook accounts that demand I stop writing about CalCoastNews or else, notwithstanding my indisputable First Amendment rights.
I wrote about the case extensively in articles and my book Defamers, but I haven't focused much on Crandall himself in my work. The reason being is that he ruled in my favor, I was grateful for the outcome and respect the legal process. I didn't want spoil that outcome with commentary about him or come across as one of those guys who complained about a judge without taking into account the actions that led them to appear before a judge to begin with. In this case, however, I won.
But Crandall was a witness to attorney Stew Jenkins leaning over the witness stand while I was answering his questions. At that time, Jenkins spit in my face and Crandall did nothing except ask Jenkins to take a step back. That's assault and battery that occurred in his courtroom on his watch.
And Crandall had previously recused himself from a debtor exam hearing for Velie, stating on the record that he had a conflict. Yet Crandall didn't recuse himself in Velie's case against me.
And Crandall was someone who disallowed my father to testify after Velie made a litany of false allegations against him. He was essentially put on trial too. Despite the circus, Velie's crocodile tears and clear perjury, I was admonished by Crandall. And the very same "victim" who claimed she feared me has used a number of anonymous Facebook accounts to harass me over a three-year period.
The admonishment went like this: Crandall took exception to a random smattering of my columns and posts Velie cited and called them "inappropriate." Crandall told me to "step back" from her, but did not tell her to "step back" from me. The admonishment became part of the spin narrative on CalCoastNews, which resulted in me receiving harassing messages and death threats from Velie's supporters. The harassment I got was one of the driving forces for me to write my book and set the record straight.
What ended up happening was I'd get messages on Facebook from accounts that repeated lies exclusively communicated by Velie on her own Facebook profile, falsely accusing me of testifying under oath that I wanted to "throw bleach" in her daughter's eyes. These anonymous Facebook accounts would claim to be real person and claim they were in the courtroom and personally witnessed me "confessing." Some of these accounts would write things like, "Judge Crandall told you to stop writing about CalCoastNews." That was neither mentioned in Crandall's written ruling response or in his verbal remarks. Obviously, any sitting judge isn't and shouldn't go on Facebook to correct the record in a case they ruled on. That clarification is not going to happen.
I understand that one person can't be fully held responsible for the words and actions of someone else, but Crandall's failure to recognize the critical issues of both parties involved and his own role created an opening for the case victor to be harassed for years unabated.
I've always been passionate about the law and legal studies, so it was unfathomable to think that I could possibly be on the receiving end of a restraining order. But I've pursued a legal career because I wanted to protect those who endured similar circumstances. The First Amendment is paramount and should be protected at all costs. And those who suffered from defamation should be able to receive a fair trial and seek damages without having to carry the heavy burden of shouldering that defamation for years on end.
But on moral grounds, I can't pursue that ideology and commit to an education at San Luis Obispo College of Law being taught by Charles S. Crandall, a man whose conduct helped enable the compromise of my personal safety and reputation.
Aaron Ochs is the author of "Defamers: How Fake News Terrorized a Community & Those Who Dared to Fight It," a nonfiction uncovering the defamatory, deceptive and criminal practices of online tabloid CalCoastNews.
---
Crandall started his 33-year legal career as a federal prosecutor for 11 years in New Jersey and San Diego, which led him to the prosecution of environmental crimes. He joined San Diego firm Milberg Weiss in 1989, where he became a partner before starting his own practice in 1994 in San Diego and then again in San Luis Obispo in 1999. It was during his time at Milberg Weiss that he was a key member of the team that litigated Exxon after the 1989 oil spill. The oil marred ocean waters off the Alaskan coast. His advocacy helped to persuade a jury to vote in favor of more than 30,000 plaintiffs.
The case resulted in a $5 billion jury award in punitive damages before the U.S. Supreme Court reduced that amount to $500 million. Many of the litigants — fisherman, property owners and indigenous Alaskans — lost their livelihoods and income after the disaster. Crandall, who was head of the pre-trial team and handled some trial work as well, spent hours upon hours with scientific experts — pouring over the effects of the spill on fish populations and the environment. The divvying up of the payout among thousands didn't seem to adequately compensate the deeply felt losses, however. "It was a heartbreaking loss for the victims," Crandall said. "The justice system let everybody down in the end. There were so many people involved, and after 20 years, some of the victims and lawyers had died. It was a crushing defeat."
Coming to SLO The specialization that Crandall developed in trying environmental law as a prosecutor and as a civil litigator in the Exxon case continued with a major lawsuit he handled in San Luis Obispo. After Crandall and his wife and two children settled into the community, he took cases including an oil leak lawsuit in San Luis Obispo against Unocal, co-representing the Holdgrafer family — which owned property on Tank Farm Road — with fellow attorney Ilan Funke-Bilu. Funke-Bilu said Crandall won motions for summary judgment, which would have ended the case if the plaintiffs had lost. Summary judgment is an early determination made by the judge in the case without a full trial. "As a lawyer, he is without a doubt the best writer I've ever seen in my life," Funke-Bilu said. "Preparing for trial, we worked morning and night."
NEWS:
Vindicated But Vilified: My Experience with Judge Charles S. Crandall
This judge has a questionable background and history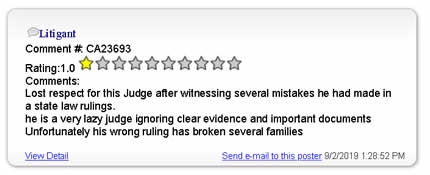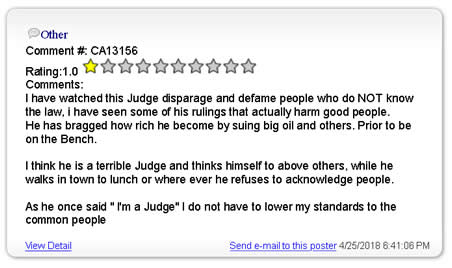 ---