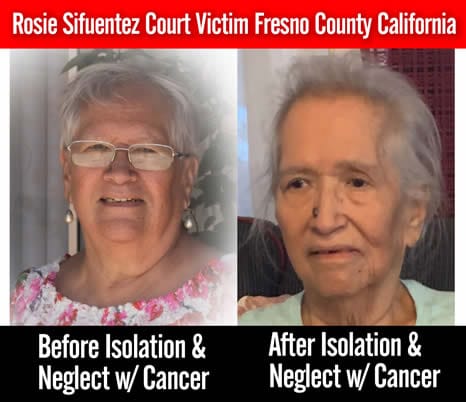 Save Rosie from being KILLED from neglect by the Fresno Public Guardian!
Free my mother, Rosie Sifuentez, from conservatorship by the Fresno Public Guardian's Office. Restore her basic "human rights" to be properly cared for and "personal rights" including—but not limited to—the rights to receive visitors, telephone calls, and personal mail. The Fresno Public Guardian was granted conservatorship of my mother (person only) on October 26, 2021. However, they have been negligent in carrying out their duties to follow the most basic guidelines of The Judicial Council's Handbook for Conservators to ensure that the proper care and the needs of my mother are met.
My mother, Rosie, urgently needs to be removed from her home, away from the abusive and neglectful caretakers, Samuel Esqueda (son), Irene Sanchez (daughter) and Raymond Esqueda (grandson), who live with her. She is 80 years old, suffers from dementia, is battling kidney cancer, and has other health issues. The Public Guardian's Office has violated my mother's rights and diminished her dignity as a "human being" by allowing her caretakers to place her on the couch or bed to sit, rot away and die while watching television. Although my mother is not paralyzed, she is unable to walk due to the lack of movement, exercise and nutrition that has caused her muscles to atrophy and her body to look like a skeleton.
The Public Guardian's Office as Conservator of my mother has left all the decision-making to her caretakers, all three have criminal records (two have felonies) and all are known drug addicts. The Public Guardian's office is supposed to follow a code of ethics and a higher standard than even the strict guidelines of The Judicial Council's Handbook for Conservators, but instead they have transferred the responsibilities to three people who do not themselves qualify to be a Conservator!
We want to reach 2500 signatures, so we can present this to officials outside of Fresno.
If you sign this petition, you will help free her from the Fresno Public Guardian and ease her daily suffering at the hands of her "caretakers".
Please help save my mother's life!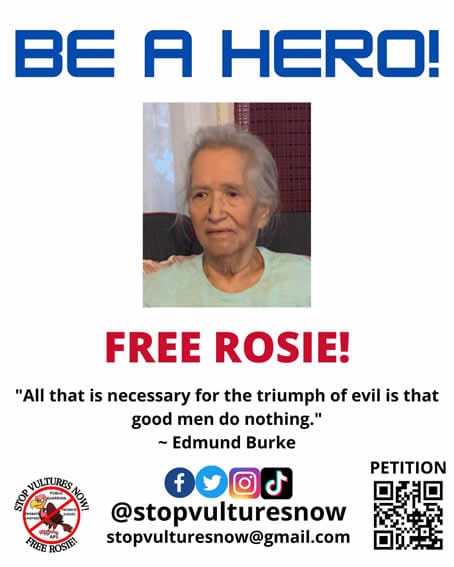 ---