Google offers FREE Screen Share or Remote Desktop
It's fast, simple, and free
Whether you need to access your work computer from home, view a file from your home computer while traveling, or share your screen with friends or colleagues, Chrome Remote Desktop connects you to your devices using the latest web technologies.
Convenient
Remotely access your computer to view files or run programs anytime, from anywhere.
Secure
Built on Google's secure infrastructure using the latest open web technologies like WebRTC, you can connect to your devices or share your screen with confidence.
Simple
Connect however you want, using a computer or your Android or iOS device. Whichever way you choose, you can rely on easy access to all of your computers and files when you need them.
NOTE: You need to have GOOGLE Chrome installed and logged onto a "Google account".  Go to Google.com and make sure your profile is active in the upper right corner of the screen.
It may also work by just going to the https://google.com page. However you will still need a Google account
Google accounts are free.
INSTRUCTIONS:
1. To use Remote desktop go to THIS PAGE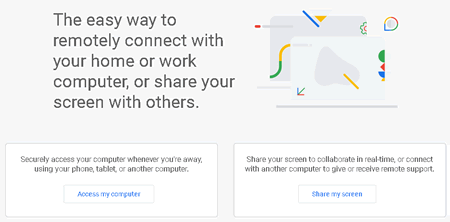 2. Click on the option to the RIGHT " Share my screen".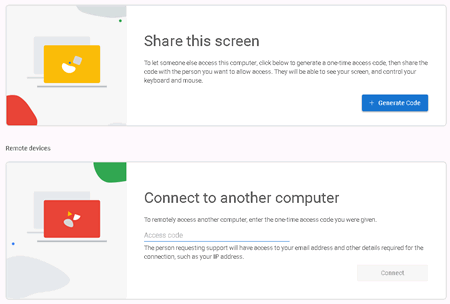 3. Click on the TOP option button by Share this Screen "+ Generate Code"
4. Note the 12 Digit Code above and give it to the party who you want to connect to your screen
AT ANY TIME YOU CAN STOP SCREEN SHARE BY CLICKING THE "End Screen Share" Option
---