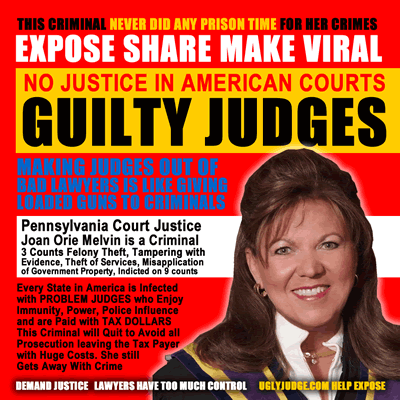 ---
Pennsylvania Supreme Court Justice Joan Orie Melvin
Is a total disgrace to America but just the tip of the iceberg as to what Justices are doing with your tax dollars. Anyone involved in the legal system should have an annual polygraph test to ensure the American public is safe and getting honest judges.
April 7, 2010, Melvin's sisters, Pennsylvania state senator Jane Orie and Janine Orie, are arrested, charged with theft of services and criminal conspiracy. They used Jane Orie's senate staff and office resources to run their sister's 2009 campaign for the state supreme court.
May 17, 2012, Pittsburgh Post-Gazette reports Melvin was to be charged as a result of an investigation.
May 18, 2012, Melvin is indicted on nine criminal counts alleging she used legislative and judicial staff to perform campaign work. She was suspended.
February 21, 2013, Justice Orie Melvin was found guilty on three counts of felony-classed theft of services, one count of conspiracy to commit theft of services, also a felony, one count each of misdemeanor misapplication of government property and conspiracy to tamper with evidence.

THE CRIME NEVER FITS THE PUNISHMENT WHEN YOU'RE A JUDGE THUS THEY DO THE CRIMES AS CRIME PAYS
May 7, 2013, Orie Melvin is sentenced 3 years of house arrest plus 2 years probation. She was ordered to perform community service in a soup kitchen for 3 days a week, to send a hand-written apology to all judges in the state with a picture of herself in handcuffs, and to pay for the cost of the photo.

NEWS STORIES
Judge sets resentencing hearing for Joan Orie Melvin
3 Political Sisters Convicted Of Corruption: Joan Orie Melvin, Janine Orie Found Guilty In Pa. Court
Experts say judge's 'shaming' order for Orie Melvin may not be enforceable
Judge orders Supreme Court Judge Joan Orie Melvin to be resentenced for corruption

BAD LAWYERS MAKE THE WORST JUDGES SO WHY DO WE ALLOW THEM TO CONTROL AND RULE. WE NEED CITIZEN OVERSIGHT
Ex-Pa. Supreme Court Justice Joan Orie Melvin loses federal appeal of her criminal convictions
Former Pennsylvania Supreme Court Justice Joan Orie Melvin has failed to convince a federal appeals court that her criminal convictions for having her staff do political work are unjustified.
That rejection by the U.S. Court of Appeals for the 3rd Circuit came Tuesday in and opinion by Judge came in an opinion by Judge Paul B. Matey.
In short, Matey discounted Melvin's argument that she didn't commit any crime but was wrongly prosecuted for violating what were merely internal workplace guidelines. Matey found that her acts were clearly criminal.
Melvin, who won election to Pennsylvania's highest court in 2009, was convicted in 2013 of misusing her staff and office resources to promote her political campaigns.
Her sisters – former state Sen. Jane C. Orie and Janine Orie, who was Melvin's judicial aide – were convicted of similar offenses.
Although she avoided a prison term, Melvin was sentenced to 3 years of house arrest. She also was ordered to perform community service at a soup kitchen and to write apology letters to every judge in the state.
Melvin took her case to federal court after failing to convince the state appeals courts to void her convictions. She appealed to the circuit court after a U.S. Western District judge denied her petition for a federal review of her convictions.
Matey wrote that Melvin "was prosecuted for misusing tax dollars for private benefit." Evidence showed she "required judiciary employees – during the workday and using public resources – to write letters to Republican Party officials, draft political speeches, fill out political questionnaires, prepare campaign fundraising and expense reports and write thank you notes to campaign donors," the judge noted.
"Some employees testified to spending a considerable percentage of their workday devoted to political tasks, rather than performing the tasks related to the public jobs they held," Matey added.
Plus, he wrote, Melvin "did not have immunity from criminal prosecution because of her occupation as a judge."
The ruling on the Melvin case comes three months after the circuit judges denied Jane Orie's appeal of her convictions.
Comments or questions are welcome.
---
---