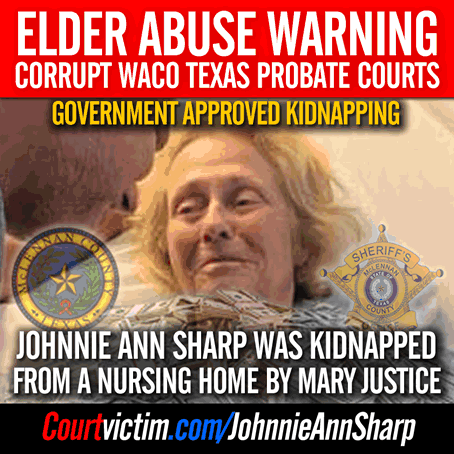 Court Victim Johnnie Ann Sharp
---
MY MOM WAS KIDNAPPED BY MARY JUSTICE OUT OF THE NURSING HOME TODAY AGAINST MEDICAL ADVICE!! PLEASE SHARE
I found out today Mary Justice is in fact not medical POA of my mom. The POA she has been showing hospitals and doctors was revoked in May 2017 by my mom. Mary told the nursing home that my mom's brother was her guardian dated 2018 but come to find out it is not valid and never filed! Why would my mom need a guardian in 2018 if she wasn't incapacitated? Interesting.
I went to see my mom twice today and the 2nd time Mary was there and wouldn't leave the room for me to see my mom. She again tried to tell the staff she was medical POA and they again informed her she wasn't. A threat to call the police finally made Mary leave the room so I could visit with my mom. The two visits with my mom were awesome! We talked about all the good times and just enjoyed the time together.
Chad Justice texted the nursing home about an hour ago and said my mom's brother Jimmy Dale from Kentucky who is blind and he's been getting monthly checks from my mom since 2008 will be coming to take care of my mom! This story just keeps getting crazier..
I will continue exposing these LIARS and CRIMINALS for what they have done to me, my mom and our family
Mary Justice
Chad Justice
Jay Justice
Jimmy Dale Garner (mom's brother)
Donna "sugar daddy" Hafley (Jimmy Dale's wife)
Dr. Gary Barbin (Crooked Dr)
Hey Dr. Gary Barbin, you said to me "I missed my mom for the wrong reasons" with ZERO factual evidence to support such a ridiculous statement
Attached are copies of just a few checks from the TWO family's that "LOVE MY MOM FOR THE WRONG REASONS". What you see here is FACTUAL evidence to support this post and not made up LIES from criminals like the Justice Family (Mary, Chad and Jay) or my uncle Jimmy Dale Garner and his wife Donna! PLEASE SHARE! Please help, keep spreading the word, and I still can't believe this is allowed to happen to our elderly in Texas! It could happen to anyone! PLEASE NOTE THESE BANK ACCOUNTS HAVE BEEN CLOSED AND MY MOTHERS ADDRESS IS NO LONGER THE ONE LISTED. These people have made sure her money was moved and one has even told people they've had to move my mother's money because too many people were asking questions.
---
DR. GARY BARBIN AND THE 7 STAGES OF DEMENTIA
If you follow Dr. Barbin's timeline below it appears my mom went from being in probably a stage 3-5 through the years then reversing back to stage 1 when APS, Waco PD and Judge Felton start investigating the undue influence and financial exploitation! 10 great questions below for Dr. Barbin to answer.
1. Dr. Barbin, what stage was my mom at in the years 2012-2013 when Dementia first showed up in her medical records? You and your nurse Peggy Boen told me it's been in there since then.
2. Dr. Barbin, what stage was my mom at when she failed a memory exam in 2015?
3. Dr. Barbin, what stage was my mom at when you recommended her to go to Wesley Woods after La Hacienda's Dementia diagnosis in September 2017? You said you wouldn't take her back as a patient unless she went but somehow stayed your patient.
4. Dr. Barbin, what stage was my mom at when you told me after the La Hacienda diagnosis that you were so worried about my mom's memory that if it was your mom, you would have her live at a place like the Delaney?
5. Dr. Barbin, what stage was my mom at when I was paying her bills and I found over $270,000 in checks written to the Justice family? Mom had no idea what most of those checks were even for.
6. Dr. Barbin, what stage was my mom at when Mary Justice and Jimmy Dale brought my mom to your office two days after her dementia diagnosis at La Hacienda to take me off as Medical POA?
7. Dr. Barbin, what stage was my mom at when UBS financial first reported the financial exploitation to Adult Protective Services in September 2017? She must have been cured in just a few weeks because you told both agencies that my mom had no more signs of dementia.
8. Dr. Barbin, what stage was my mom at in December 2018 when you wrote Judge Felton's court a letter saying my mom is competent? I guess she was still cured with no dementia symptoms.
9. Dr. Barbin, what stage was my mom at when because of "undue influence" she changed her Will so the Justice's and her brother Jimmy Dale are now the BIG beneficiaries?
10. Dr. Barbin, what stage was my mom at when you told Detective Kent with Waco PD in September 2020 that my mom didn't have Dementia?
Dr. Barbin is not an idiot, so he is either getting paid off or Mary has blackmailed him for something he doesn't want his wife to know about. He has failed my mom not only with her Dementia care, but he has allowed these LIARS/CRIMINALS for the last 5 ½ years to keep stealing money from my wonderful mother! Not to mention he is JUST as guilty as the Justice family for isolating my mother and keeping her away from me, my children and her TRUE FRIENDS.
---
MY MOM DID NOT GO HOME AFTER THE HOSPITAL SO ANOTHER LIE IS EXPOSED! PLEASE SHARE
Hey Chad, when did my mom get home? Your text message from Sunday attached stated "she is getting out of the hospital tomorrow and going home but she stated she DOES NOT want to see you".
I know it's hard to believe that my good buddy, ole pal, olive branch guy LIED again! I mean Chad said my mom was alert, talking and on the mend. We all know home is where she has always wanted to be and that was always the plan we had until the LIARS and CRIMINALS took over her life.
You won't believe where my mom is right now and no it's not at home like my good buddy, ole pal Chad said she was going. She is in a facility that I am sure she doesn't want to be in which is heartbreaking to me for my mom! This was their plan all along was to put my mom in a facility to where they have total control over her medical and financial decisions!
If you remember the Justice's (Mary, Chad, Jay) along with Jimmy Dale, Donna, and Dr. Barbin convinced my mom I was trying to lock her up at Wesley Woods in 2017 so that is why she disowned my kids and me. I don't how these people sleep at night.
LIES AND COVERUPS is how these people roll and I will not stop exposing all of them until they are held accountable for what they have done to my family!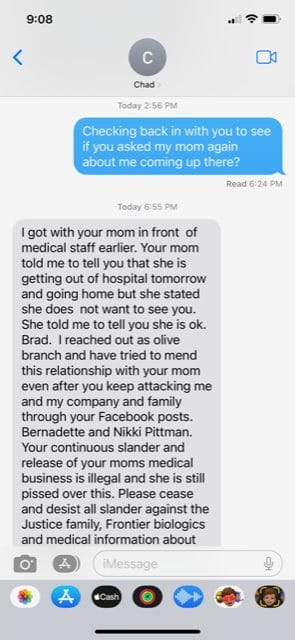 ---
LET ME BE CRYSTAL CLEAR ABOUT SOMETHING!
September 11th, 2017, changed my mom's life forever and not in a good way! From that day forward she has been alienated and isolated from not only her only son and grandchildren but from all of her longtime Waco friends as well. When I was calling and texting Dr. Gary Barbin on Sept 9 and 10th after she got back from La Hacienda to let him know that Mary had convinced my mom Wesley Woods was my idea and not his I was medical POA at that time and had been medical POA since September 26th 2006. (Except for a few days in April 2017 that Mary convinced my mother to change it to her and Chad, before it was changed back to me again)The last time I talked to Dr. Barbin I told him I wanted my mom to come home then let's come up with a plan and that is last time we ever spoke on the phone. Dr. Barbin refused to talk to me that whole weekend and then Mary flies in my mom's brother so they could go to Dr. Barbin's office on Monday Sept 11th to take me off as medical POA. Hey Dr. Barbin, your co-conspirator Mary lied to La Hacienda and told them she was medical POA which obviously isn't a surprise to anyone who has followed my story.
I called that morning to his office to try to talk to Dr. Barbin but ended up talking to his nurse Peggy Boen for a while and I told her what Mary had done and to let Dr. Barbin know again what is going on. Peggy told me that Dementia had been in my mom's medical records since 2012-2013 and that her and Dr. Barbin have always been worried about her memory in the past. I called Peggy back after lunch and she told me she could no longer give me any information about my mom because Mary, Jimmy Dale and my mom had come into the office and took me off as medical POA. Let me remind everybody my mom was just diagnosed with Dementia 2 days before they came in and Dr. Barbin knew that because he wanted her to go to Wesley Woods, but I stopped it and wanted her to come home. Peggy went on to say my mom passed some test or something so Dr. Barbin indicated she was just fine even though he told Waco PD and APS that he wouldn't take my mom back as a patient unless she went to Wesley Woods to get evaluated! Even though he told the agencies that my mom remained a patient until he retired December 2020.
Jimmy Dale and Mary convinced Crooked Dr. Barbin that I was trying to lock my mom to steal her money even though I was the one that brought my mom home and said no to Wesley Woods! See the attached text messages from Chad and I saying Dr. Barbin told them (my mom and his family) I was trying to lock my mom up and message from Jay to a friend telling him it was all me wanting to lock my mom and not Dr. Barbin! I mean you can't make these stupid crazy stories up…
Is Dr. Gary Barbin getting paid off or is he just a complete idiot? The jury is still out but either way he knew the truth on September 9th and 10th of 2017. He is 100% responsible for my mom's life being RUINED and TOTALLY controlled by the Justice crime family! His unconscionable decision to grant Mary Justice and Jimmy Dale the document that gives them total control of my mom's medical decisions and access to control her financial decisions soon after because of him!
My mom has or had the resources to have 24/7 care at her house and that was always the plan until the money started flowing to (Mary, Chad and Jay Justice) and Jimmy Dale who has been living off my mom with a monthly check since 2008 then they took advantage of my mom's diminished capacity with LIES that I wanted to lock her up!
LIES, COVERUPS AND CORRUPTION by all the criminals below!
Mary Justice
Chad Justice
Jay Justice
Jimmy Dale Garner (mom's brother)
Donna "sugar daddy" Hafley (Jimmy Dale's wife)
Dr. Gary Barbin (Crooked Dr)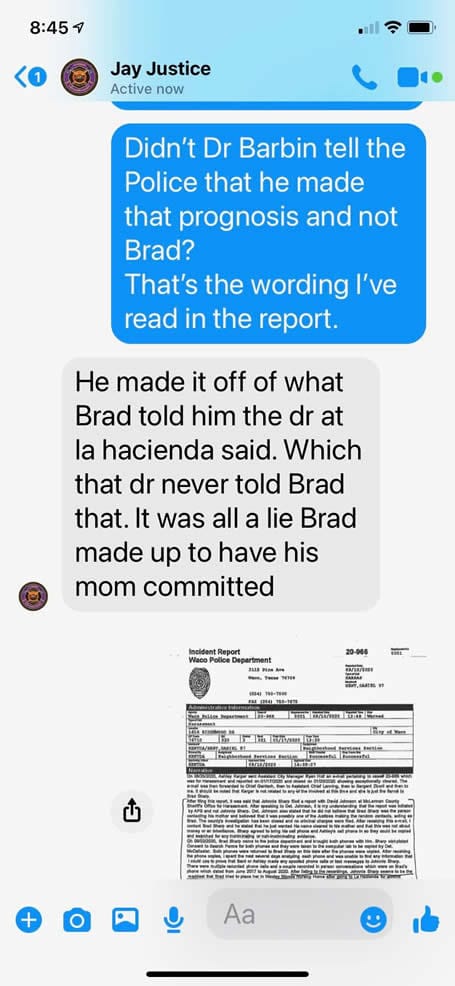 ---