A. The Cost of Courage Series – Dr. Richard I. Fine.
Dramatic twelve part series of interviews of Dr. Richard I. Fine, Ph.D. and others by Leslie Dutton of the Full Disclosure Network. The series commenced with an interview the day before Fine was illegally imprisoned in 18 months of coercive, solitary confinement in the LA County Jail and ended after Fine's release. The series highlights the corruption in the judicial system and the ways to solve the problem. ​
DISCLOSUREWATCH.US
Attorney Richard I. Fine explaining form 700.

Disclosure Watch.US Part 2
470 views Jul 7, 2008 Attorney Richard Fine explains the law's requirement that judges disclose their financial interest. This includes any investment above $1500, and where they are a director or an active participant to the party. There is currently no document or form on which they can disclose such information. Disclosure Watch seeks to pass a law which would require judges to list investments and affiliations on a special form, which would then be filed with the secretary of state.

Disclosure Watch Town Hall Meeting
Mar 2, 2009 This is a speech by Attorney Richard Fine during a Town Hall meeting in Los Angeles, California on February 26, 2009. Attorney Fine gives details of the criminal complaints that he has filed against the Superior Court Judges in Los Angeles, California who have found a way to take bribes legally. Attorney Fines organization is called Disclosure Watch and their Website address is: http://www.disclosurewatch.us/

Attorney Richard Fine is out of JAIL 11-2010 .. At last.
Feb 28, 2009 Richard Fine on the Los Angeles Board of Supervisors on Feb. 24, 2009. It's time for them to step-down, or may be go to jail! Here is another person having a bad deal by judges, (http://www.youtube.com/watch? We are looking for those of us that care about own community! There are small things me and you can do to make it better. Have you ever seen misconduct by any employee to your government? Have ever been lied to by a so call leader. Do you find yourself voting for people that you really don't like? Hay, if you said yes to any of these saturation's, then share it with me and lets see if we can make a difference.
More information can be found at htt:// disclosurewatch.us/

Conspiracy, conspiracy and more, you may have gotten the staff
Feb 28, 2009 America Black Affairs
Los Angeles, April 20, 2010
HOW CALIFORNIAN ARE BEING .. OVER!
My Dear Californians;
Are we just sleeps? I went to traffic-court today with a friend. Her court time was 8:30 am. By the time she got in, she was told she would have to wait until the 1:30 pm secession.
This was the traffic court at Hill and Washington, down town Los Angeles. That court is closed at least one day a week. The public is told this is to save money for the county of Los Angeles. Supposedly making the workers (take furlough) use up their sick leave, vacation time, and or what ever the court worker, (other than the judges) can think of to keep their same take home pay the same. Will this save us money? (Furlough: Verlouben, to permit permission, akin to LEAVE .etc.)
Why don't we ask that judges be furloughed one day a week and let the litter workers come in and, catch up on work. Such as, get the files in sake or what ever. Also, why don't we furlough the Board of Supervisors two days a week, with out pay, furlough the major, all department head, with out pay. In fact, why not furlough all elected people for two days a week. Don't you agree that leavers should be the first to be furloughed? Lets start at the top.
The politicians know what has happen or should know, and should have known if they are worthy of being in a position to make decision about our future.
We have tax saturation where the people that make the most profits and most money pay the less percentage of taxes. That means that the people that can least afford it pay the most per volume.
Cooperation taxes are frozen at 30 year old rate, while the rest of us pay a 2000. rate. Further more, this rate is guaranteed not to increase until after the death of the cooperation, which is then paid by the successor, unless the successor is another cooperation that has the same arrangement.

Judges on the take. Say Richard Fine
Feb 28, 2009 Attorney Fine Exposes
The Los Angeles County Board of Supervisors have been paying the Superior Court Judges about $40,000.00 per year on top of their slavery to make sure the courts would rule every case in its favor. Using the peoples money against the people. There is 4 videos that speck to this. But it will not stop until you join with us to put the crooks in jail, jail!
More information can be found at htt:// disclosurewatch.us/

9-1-1 Call from Jailed Attorney VB68
Mar 18, 2009 Anti-Trust Attorney Richard I. Fine is in jail, sentenced by LA Superior Court Judge Yaffee for contempt of court, having accused Judge Yaffee of taking illegal money from the LA County Board of Supervisors. He is being held "indefinitely" with no bail, no hearing date and no release date, without any ability to file a writ of habeas corpus in the Federal court to gain his freedom.

ZERMAN on Jailed Atty FINE
Mar 19, 2009 Atty. Gary Zerman does first interview on with ON SECOND THOUGHT. TV 's Host, William Wagener
on the jailing of Atty. Richard FINE for the "crime" of winning his Lawsuit against 400 corrupt L.A. County Judges, and the Board of Supervisors. Bottom line, they are corrupt, and Fine proved it. Appellate court agreed with FINE, and the Legislature of CALIFORNIA retroactively made legal that which was illegal.
Question now, will the U.S. Supreme Court hold the corrupt judges responsible. Rally for Fine is Mar. 22, 2009 at the L.A. Jail

Free Fine
Mar 23, 2009 Atty. Richard FINE , gets STREET support at a Rally Sunday Mar. 22, 09 outside the L.A. County Jail where he has been locked up by a corrupt JUDGE since Mar. 4th, 09. Mr. FINE caught all the L.A. county Judges taking BRIBES for over a decade in clear violation of LAW, from L.A. County Supervisors, and in 4 years and thousands of Lawsuits… L.A. County lost only two by jury verdict…. Clearly FINE nailed them, and the Ca. Appellate Court agreed. But the Supreme Court refused to Hear it and over turn FINES great Victory for the People, but quietly had the Judicial folks write a emergency law and the State Legislature [ 35% lawyers] adopt # 11, which RETRO-ACTIVELY made legal THAT was and had been [and still is if our Constitution stands] ILLEGAL.
So there is NO
"Checks and balances" between the 3 branches of GOVERNMENT… thanks to the treasonous Legislature [ traitor Karen Bass in state Assembly]. They no longer hold each other accountable,
but quiet the opposite conspire to destroy Liberty and Justice for all…
They should have paid FINES Court Costs, but instead… he rots in jail. These few Patriots stood up openly for Mr. FINE…

Coercive Confinement +Judicial Benefits = Corruption? #539 Preview
May 6, 2009 Former attorney Richard I Fine has been sentenced INDEFINITELY to LA County Jail for accusing the LA County Superior Court Judges of taking illegal money from LA County. Apparently this payment has been going on for more than 20 years. According to Judge Yaffee, he is being sentenced for contempt of court–or "coercive confinement."

A Justice Criticizes Fellow Justice
Mar 21, 2009 West Virginia Supreme Court Justice Larry Starcher has harsh words for his fellow Justice, Brent Benjamin, for not disqualifying himself from a case in which one of the parties had made pivotal campaign contributions that helped Benjamin acquire his seat on the bench.

LA Times Female Journalist Sneaks Into LA County Mens Jail VB78
Oct 6, 2009 LA Sheriff Baca is refusing access for Full Disclosure to interview jailed attorney Richard Fine, while his staff is claiming that a female journalist from the LA Times "did not have permission" when she interviewed Mr. Fine. Full Disclosure questions why the Sheriff Dept is keeping Mr. Fine from our cameras. Are they hiding something?

Volunteers Fight Court Corruption to Free Jailed Attorney VB76
Sep 9, 2009 Full Disclosure Network's Leslie Dutton interviews "Free Richard Fine" volunteers who are fighting Court Corruption and the system that has illegally jailed prominent anti-trust attorney Richard I Fine. Sentenced for civil contempt of court for an indefinite period, without bail or a release date, Fine is being held in L A County Central Men"s jail in "solitary coercive confinement" after attempting to disqualify Judge David Yaffe for taking illegal payments from a party involved in the case before him. Dedicated volunteers are typing, copying and delivering legal papers back and forth from his jail cell and to the court in the fight to free him

Judge To Judge On Illegal Payments To Judges VB73
Jul 25, 2009 Full Disclosure Network interviews non-profit, public interest "Judicial Watch" attorneys who go for Court Order to stop illegal payments to the Judges in Los Angeles Superior Court. Will the Judge rule in the Judges favor? High priced, big law firms represent the Judges at taxpayers expense. Features: Sterling Norris, Paul Orfandedes of Judicial Watch, Full Disclosure Network's Leslie Dutton.

California State Bar Persecutes Mr. Fine #549-500 Trailer
Dec 21, 2009 Full Disclosure Network (R) presents Professor Daniel Gottlieb as he explains how the vindictive California State Bar destroyed attorney Richard I. Fine for representing his home owners association when they filed suit against the Epstein's development in Marina Del Rey.

FINE FREE, Finally
Sep 21, 2010 F for Judge David Yaffe's Fidelity to Oath of Office.
F for Judge David Yaffe's Fair application of true Law.
F for Judge David Yaffe's Excessive Abuse of Richard Fine
After 19 months of wrongful incarceration for "contempt" for proving and winning at the California Appeals ( 3 judge ) court, Richard I. FINE, is finally released by crooked Judge David YAFFE, who needs to be REMOVED and stripped of his pension, indicted, tried for his crime against Richard I. Fine,
Jail for David YAFFE is warranted.
THANK GOD, Mr. Fine was freed last Friday. Confirmed.

Vote for Justice – William Goble Case
Jul 21, 2013 William Goble's case demonstrates that no one can get a fair trial before Judges who receive illegal payments and Retroactive Immunity from Criminal Prosecution. William Goble's Case Demonstrates that a Person will Not Get a Fair Trial or a Fair Appellate Court Hearing from Judges who receive Illegal Payments from Counties and Retroactive Immunity from Criminal Prosecution under SBX 211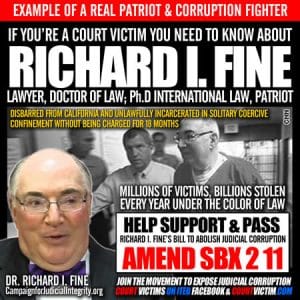 ---
MORE ON DR. RICHARD I. FINE AND AMEND SBX 2 11
---