COURT VICTIM NETWORK
The name and Facebook group was created in 2017 by Robert Gettinger a victim of Los Angeles County Superior Court Probate Department. Is about court victims and operated by court victims. We are all volunteers who have first hand experience as actual court victims. We welcome all court victims to join us and grow the movement to bring justice back to our courts.
We are proud to be working with the Disney Family C4CCUSA.ORG
and Post Modern Justice Media Project
There is no cost for victims to join court victim network. To take full advantage of all our self help features and content we suggest you JOIN by a simple one click for Facebook users, Twitter users and Google/Gmail users. You also have the option to register via any email address and adding your own password. If you want to get started and add your story, abusers or experiences please visit our FORUM
Court Victims of other states are welcome to start their own chapter of Court Victim. We are about all court victims not just one court division, Family, Divorce, Probate, Civil, Appeal and Criminal because all courts suffer from the same abuse and dishonest by judges and lawyers. If you have experience in a specific court area and wish to act as an admin please contact us.
We are always in the process of growing and expanding, our Facebook group has exploded with over 4100 Users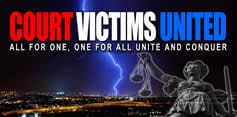 Our Online Experience is broken down into the following sections:
VICTIMS (Organized by State and City)
ABUSERS (Organized by State and City)
Government
Judges
Lawyers
Others
HEROES (People we feel that have made positive change)
VIDEO & AUDIO
Podcasting
You Tube
VIMEO
Audio Recordings
Documentaries
DONATIONS
Gofundme Projects
LEGAL (Legal Documents)

NEWS
News stories, Articles
BRITNEY SPEARS CONSERVATORSHIP (Sister Online Experience) devoted to Britney Spears
FORUM Public and Private Discussion areas
(If you don't see what you're looking for in the Forum please contact us to add your topic)
Civil Court Victim
Criminal Court Victim
Juvenile Court Victim
Last Updated on 09/11/2021 by Fly